A Day With Devon Smith
Mon, Sep 15, '03

He shares my zodiac sign; so does his father. His mother celebrates her birthday the same day I celebrate mine. On a rainy Sunday morning, I learnt much more about Devon Smith - his childhood, his family life, the much anticipated call up to the senior team as well as some of the people who have influenced his life.
As I told Devon, this interview is less about the technicalities of his cricket and more about him, the person.
Who better to spill the beans on Devon's childhood, than his parents ? Leslie and 'Miss Ann' Smith. Devon is the second to last child in a large Catholic family. With 9 brothers and 3 sisters, the young Smith was never short of company...and one would imagine never short of someone to get into trouble with! But a different story is told by his father when asked what sort of trouble his son used to be involved in. "No, no, no. Devon never used to give any trouble." Not believing this could be true in this day and age, I asked Mrs Smith the same question. Same response. "No, no, no. Devon never give any trouble." Older sister Dartlyn concurs. Mr Smith let out the secret. "If their mother told them to do something and they didn't do it, I just watch them." He demonstrates 'The Look'.
As Mr Smith tells it, Devon was never home much and that's probably how he stayed out of trouble. While a student at Hermitage Government School, he played a lot of football. Then he picked up cricket. The now Minister of Sports, Adrian 'Spaceman' Mitchell, is probably the reason the cricketing world got a taste of the dashing opener in the 2003 Australia series. Devon was a striker on the Minister's football team, which was named 'Hard Rock'. According to Mr Smith, Minister Mitchell "told him to leave out the football and study the cricket." Devon told me "it was kind of difficult because I was very good at both of them."
After getting a sports scholarship to McDonald College, a secondary school just opposite a cemetery in the nearby town of Sauteurs, Devon was happy that the scholarship required him to play both football and cricket. At this school, which has a lovely view of the ocean and some off shore islands, sports master Carl Andall helped the young cricketer come alive. "He helped me all round, gave me a lot of advice. Sometimes when I did wrong things he wasn't afraid to pull me up." Star or no star. And Devon was a star, being a prolific scorer in the secondary schools cricket competition.
His best friend was, and still is, Steve Garrett. "In the morning even though he reached before me, he'd wait for me and I did the same. We always went to school together, came back together and played football and cricket together."
Back at home during the teenage years, Devon helped out by attending to the Kitchen Garden which is a garden usually behind one's house where small crops are grown to supply just the household. This is a feature in many Grenadian homes. Here, he looked after tomatoes, cabbage and beans. Can he cook? His mother chuckles. She admits to not knowing as she never made him try. "He was always playing football." Devon confirms that his culinary skills include Fish Broth, Oil Down and Pelau. I asked him how come he never cooked. "Because my Mom's there." What a silly question!
Devon continued producing high scores all through his U-19 career. He allows himself a blow off his own trumpet by stating "I dominated Under 19." That he did, so much so that there were calls for his inclusion in the senior team for two years before he finally got the call.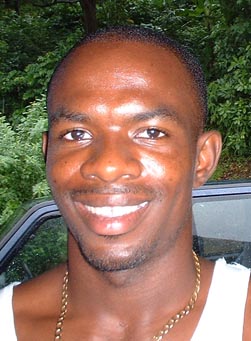 Where was he 'the call' came? In Guyana playing against Australia in the warm up match before the first Test. "Roger Harper told me I got selected. I was very happy but I was kind of nervous. What made me nervous was that they told Carlton Baugh, and then a couple hours after they told me. I had heard the rumour before the coach told me, so I was wondering if it was true or not."
Junior Murray's phone was the first to ring with the good news. Murray, a former wicketkeeper for the West Indies who played his last test in 2002, was the first Grenadian cricketer to be selected to the West Indies team. "He's always behind me. He always encourages me. I show him a lot of respect. He's somebody I really admire, him and Rawl Lewis. Junior was happy and told me that the hard work now start. He told me just to continue working hard."
Murray had taken Smith under his wing many years before, to ensure that the young man got fit and got into the habit of practising. That regimen continues today. "Monday to Friday, I drive down to Junior and we go and train. We stretch and do some batting." Asked whether they were making use of the bowling machine at the Shell Cricket Academy at St George's University, Devon said they have not yet requested to use it.
Certainly a call up to the big leagues is reason for a young man to get cocky or to otherwise change. His parents confirm that from what they have seen, it's the same Devon. Devon said "What has worked for me, you have to continue to live with it, you can't change anything." What about the girls, I ask him. Surely he must be getting a lot of attention now. "Yes, I had expected it. Junior and Rawl had told me 'you can't study girls and study cricket because when you're in the hot sun working, they're somewhere liming. You can't really take them on. You set your goals on cricket'." Sounds like good advice. But what of his girlfriend back in Grenada? Doesn't she get jealous of all the attention? Like a man assured, Devon said "I explained to her early that a lot of people going to be rushing me, so I think she understands. I call her everyday when I am away."
Throughout his young cricketing life, his idol was Brian Lara. "That was my goal, to play cricket just like Lara. Go out there and perform every time I go to bat." His first test match in the maroon colours holds fond memories of the Lara-like shot-filled 62 he scored in the second innings. Here are two descriptions of balls Smith faced, commentary courtesy of Cricinfo:
8.1 Gillespie to Smith, FOUR, beauty! fuller length delivery outside the off stump, angling away from the left hander, taken on the half-volley and driven to the cover fence, perfect timing.
13.2 Lee to Smith, FOUR, magnificent! good length delivery outside the off stump, Smith moves forward and smashes it into the gap on the off side, ball races away to the cover fence.
Lee? Could that be Brett Lee, one of the most feared bowlers around today? The one and only. "I had a lot of fun. I was a little nervous in the beginning. I got out there, I knew what I had to do so I just went out there and did it," said Devon. As easy as A-B-C.
The ODI's weren't so simple though, and Devon only played in the first 3 matches, scoring 26, 1 and 9. Quite unusual for this run-scoring machine, whose goals are to score at least 400 runs in a test series and 300 runs in ODI series. Although he said he did not feel too badly sitting out the 4th and 5th matches, Devon says that not being selected to play in front of his home crowd in either the 6th or 7th ODI was disappointing. "We'd lost the series already. None of us (Murray or Lewis) had played there. I was thinking I'd be the first person to play there so I was a bit disappointed."
I reminded him that he will have another opportunity on 28 April 2004 when West Indies play the resurgent English team at New Queen's Park in the island's capital. "That's going to be my goal," he quickly added.
But how did it feel to be dropped? "I didn't feel too bad. At least I was in the squad supporting the guys, I think that's what's important. I know sometime I will get my opportunity again and I'll make use of it. It's not all the time you perform. Sometimes you fail, you get dropped and then you pick up yourself, you ask yourself questions about why you got dropped. Then you can go back and work on any weaknesses you have."
He reasons that "they were looking for me to score some runs. I myself was kind of disappointed because I didn't score any runs. I think at that point in time (the 4th ODI) they needed to win the game, so I think they wanted to make a change, do something different."
So playing in front of his home ground is going to be Devon's motivation to perform consistently. His first assignment will be for the Windwards in the Red Stripe Bowl competition in October, his birth month. Next, there is the tour to Zimbabwe and South Africa. His birthday normally finds him away from home playing regional cricket. The Windwards team manager, along with Junior Murray and Rawl Lewis always order a birthday cake for him. What's his favourite? "Chocolate...I don't like icing but you make a birthday cake and I guess you must put icing to nice it up and thing." This year, a better birthday present would be a call from the WICB to say that he has been included to tour Zimbabwe and South Africa. Now that would be like icing on the cake, and somehow I think that Devon would like that kind of icing.
When I ask him if he thinks he's going on that tour, he says "hopefully." His father says he hears Devon talking about wanting to get picked "that's why he's trying to be in form." In addition to the cricket work he's doing, Devon also continues to play football, his first love, in order to stay fit.
Devon is surrounded by a very supportive family, including his nephews Dennis, Damian and Diondre, two of whom were visiting for the day. Dennis, in between eating a roast corn, which he proudly tells me he roasted himself, says he first saw 'Uncle Devon' play at Hermitage Government School. Dennis has now taken up cricket and likes to bat just like his uncle. Older nephew Damian, when asked what he thought when he first saw Uncle Devon bat, uttered probably the same thing that knowledgeable cricket fans did when they saw him. "The boy could bat!" Damian said he felt kind of bad when Devon was left out of the last 4 ODIs. In fact, he said he turned off the television and didn't watch any more.
In addition to having a large family, 'Miss Ann' says Devon always had a lot of friends, but most of all, he loves children. "They say when you like children so, you don't have any for yourself," says 'Miss Ann'. Devon had spent his morning making sure a young lad got a haircut because as he told me, school was starting the next day and he wanted to make sure the child looked presentable.
The time spent with Devon Smith passed by effortlessly and I told him that I had already taken up enough of his Sunday. I asked him what he was going to do now. "First, I'm going to eat." His mother says he eats a lot sometimes. But his dad adds that he likes a lot of juice - passion fruit juice. "Once there's juice in the fridge and Devon's around, you don't see when he's taking it. When his mother goes, she just sees an empty jug and she knows Devon is home."
With an insatiable appetite for scoring runs, Devon's future in cricket looks bright. For today his appetite will be satisfied with Miss Ann?s Sunday dinner of peas and rice, stewed chicken and vegetables. Dinner is served Devon, come and get it.