Mash Day with 'Mr & Mrs Sarwan'
Tue, Feb 26, '02

By Imran Khan


All day Mash day (Guyana?s Republic celebrations ? Feb 23rd) I pained my body dodging gyrating derrieres, swiveling hips and a couple of floats as I snapped away at anything with more than two colours and glitters. Hunger crept up on me like the American special forces crept up on Afghan fighters in the dead of night.


As sunset approached, I inched my way through the thousands of beer guzzling Guyanese down to KFC on Vlissengen Road in search of some deep fried marinated-with-the-Colonel?s- special- spices chicken. Bup! Right at the drive through exit I almost walked into a gang of very light skinned, just turned teenagers gathered around a guy sipping on some dark stuff from a "twenty-for-hundred- dolla" extra large disposable glass.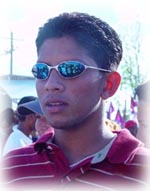 So I weaved my way around them and glanced back to see which darker skinned chap had so many white looking kids so enthralled. I should have recognized him from behind. It was a fellow I spent a few hours watching from behind. Back in '95, I was the wicket-keeper (my teammates cruelly renamed me a 'ball-stopper') who dropped him four times during his innings of 54 in an Under 16 game at Bourda. I saw him from the back too many times as he fastened our not-so-fast bowlers in the drains around the Oval.


Since that GCC v East Bank Essequibo match, he has learned not to fish out side the off stump and has achieved what all of us exuberant teenagers out there on the field that day thought we would have gone on to do ? become a West Indies player.


Ramnaresh 'Ronnie' Sarwan was probably telling the kids stories of how only he and and his other more illustrious injury-recovering compatriot lashed Murali around those Sri Lanka cricket fields a few months back. Or probably about how I dropped him four times at Bourda that day in 1995 when he, Azeemul Haniff and Ricardo Mohamed had no mercy on a bunch of overawed 'country boys' playing at Bourda for the first (and for many of us the only) time. Hardly likely to be the latter.


My camera was still running. "Sars can I get a few pictures?" A simple downward nod was all I needed to start clicking away at the Windies middle order batsman. I took about five pictures and slid over to the corner to review them. They looked good and I was satisfied that I took a close up of a West Indies star batsman. But before I could move on to getting me my spicy chicken Ronnie came over and asked to see the pictures.


"How you recognized me?" he asked. As sharp as he looked in his Windies maroon Polo shirt, I responded, "everybody knows Sarwan." If he had recognized that everyone within one hundred feet was staring at him, he probably would not have asked such a question. Maybe he does not yet completely comprehend his stature as a premier West Indies batsman. Maybe it was something else that had his attention captivated.


He seemed embarrassed to talk about his popularity, he preferred conversation about the pictures.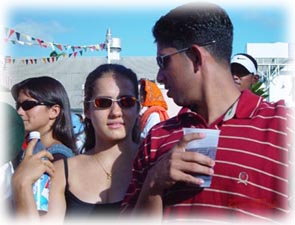 He asked about getting a photograph with his girlfriend. His girlfriend?! Who is she? Ronnie pointed out a tank top wearing, lovely, rosey faced beauty who I did not recognize. He led the way over to her. "Nic, let?s get a couple of pictures," he urged, nodding to my camera.


Nic?! Ooooooooooh! Now I know! Maybe it was her sleek but sporty sunglasses that was doing a great job of disguising her. It was Nic!


Nic, as in national squash queen, national female basketballer, reigning Senior and Junior Sportswoman of the year (for two unprecedented years in a row ? 2000 & 2001), regional female squash champion Nicolette Mary-Lou Fernandes.


So she was the reason for him not noticing the five hundred or so gaping Guyanese.


?De boy score big time?, I thought as he sipped his rum and Pepsi (specially concocted by medical experts to hasten his back recovery process). This is one of the prized offspring of one of the richest families in the history of Guyana.


Then it struck me like a ton of crushed stone from Mazaruni Granite Ltd. What sporting geniuses this union can provide. Not that anyone of us would wish for them to go dilly-dallying without protection to make kids right now. Not at the risk of aggravating Sars? back, resulting in him having to miss more Test matches. Not at the risk of stalling the brilliant career of the Caribbean?s most exciting squash player.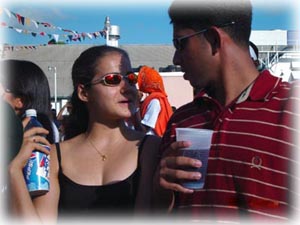 But surely if what I had just witnessed was serious then they should keep it that way and bless the world with a couple of champion batsmen and squash players. The little Sars and Nics would have no problems with coaches and technique. He has been proclaimed to have an excellent batting technique and her just as perfect if not better in squash.


Side by side they stood trying not to draw more attention to themselves by hugging while I tried hard to hold the camera still, zoom, focus and shoot. I am much worse than a half-baked amateur photographer but he was impressed with the shots, selected one that he liked, ensured Nic liked it too and told me not to leave him hanging. We exchanged numbers and chatted about how he was going to get the picture free as a gift for batting so well in Sri Lanka. Sherwin Campbell would definitely have had to pay.


He assured me that his back was feeling fine and that he will be fit and ready for the first Test in front his home crowd where he enjoys caressing bowlers to the fence. A betting man would wager a lot on Nicolette Fernandes being in Ladies Pavilion to watch his every brilliant cover drive and exquisite square cut.