Chris Gayle - Keeping It Real
Wed, Mar 3, '04

CaribbeanCricket.com's untiring reporter Michelle McDonald caught up with Jamaica and West Indies' Chris Gayle on the eve of his first full match as captain of Jamaica.
In this in-depth interview, Gayle talks about his African tour, his health, the stresses of playing professional cricket, and gives an insight into the man himself.
Chris, let's talk about Zimbabwe, where you took some time to get going. What are your thoughts on your performance, starting with Tests?
In the Zimbabwe Test series, I didn't get the runs that were required. I struggled a bit at the start. I kept doing the basic things in the nets and worked hard at my game. Eventually I knew things would have come and be better for me. It just came a bit late, in the One Day series, but I wanted it in the Test series. These things do happen in cricket.
You ended up being Man-of-the-Series in the Zimbabwe ODI's. After the kind of performance you started the tour with, you must have been pretty pleased with your performance and that award?
Yes, definitely. Any batsman coming off low scores and going into a One Day series, their confidence will be down a bit. It's something I try and work on in that area as well, when things not going my way. I definitely try and work on the mental part of my game and try and be strong.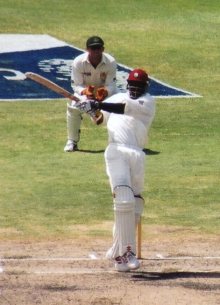 On the mental side, what exactly do you do?
What I do is try and relax more and try and not to kill myself for not scoring any runs. I try and take each step one at a time. It's something that is building gradually for me.
The captain seemed to have a lot of confidence in you, because even when you weren't scoring runs on the tour he said he was sure Chris was going to come good.
That's a good thing for a captain to have confidence in their players and I am really happy for that and eventually I got another chance and proved myself. It's never too late.
After collecting the award, you warned that your off-spin should not be under-estimated. When you started to play for the WI, did you consciously decide to develop that aspect of your game?
As far as can remember, on my debut I got 3 wickets against Zimbabwe as well in Trinidad, so it's something I work on. Not really much in the nets but it's a natural thing for me to just come and bowl. I focus really on my batting mainly.
When you were playing cricket before - first class, domestic, Sunlight Cup - were you an all-rounder?
Yes, I've always been an all-rounder. Sometimes I used to bowl even medium pace as well. I like bowling it but most of the coaches don't give me the go ahead to bowl medium pace. I don't know why but having said that I have to stick with the off spin.
We've seen your off-spin win ODI matches The one that sticks out in my mind was against England at Trent Bridge in 2000. Do you remember that moment, bowling in the last over with England still requiring 5 runs to win?
Yes, I remember that game. I think they wanted about 5 runs to win. We got a run out and eventually I got two wickets. It was a game where I said "skip, I'll bowl the last over". Jimmy Adams was the captain at that time. It really paid off for me. Once any player backs themselves to do the job they will get the job done. I really back myself in whatever I do.
What are your thoughts on the team's performance in the recently concluded tour of South Africa?
Well on the team's performance, we had a few hiccups. We didn't get the results we wanted but we used that as a learning process and will try and turn the negative from that tour into a positive. Having said that, it was good to see a lot of guys especially at my age -- myself and Sarwan and Smith -- getting big scores on that South African tour, even getting two centuries in one series. That's the first time for both Sarwan and myself.
On a personal level, did you set any specific goals before the that tour?
I try and set the targets in the mind. For example, for four test matches, I was looking for two centuries.
Generally after a series, do you go back and review your actual performance against your targets?
No, not really, I don't really go back and look at my performance. I try and start on a new page.
How do you know then how to get better for the next series?
Well I know within myself what are my faults and I know where and when to work on my faults. I know what problems I have so I just work on that.
We always hear the commentators saying that you have a heart condition Is that something you can tell us more about?
The doctor says it's nothing to worry about, it's just that sometimes when you overwork the body then your heart begins to race gradually.
You're taking wickets in the last over of a match to win it and you're very cool, calm and collected. Is that just how you are as a person?
I'm very easy going and easy to talk to at times but I'm very moody. Yes, I'm a very moody person. Sometimes I will be quiet and sometimes I will make jokes.
You allowed yourself a brief smile and a jump in the air when you got your first century in the 3rd test, struggling through your hamstring injury. Tell us about that innings.
When I look back on that innings, it was a good wicket to bat on. I really give credit to the groundsman who set that wicket. It was a batting paradise and eventually I could play my shots, and it really helped me. I really appreciated that.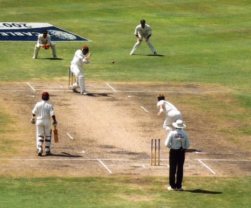 It was a a joy to watch you playing your natural game. In the final ODI however, you uncharacteristically built your innings around singles and twos. What caused the two innings to be so different?
It was a very important game for us to level the series. I know I would have had to play a big part and try and give the team a good start. Chanderpaul and I really did well for the team, but eventually Shiv got out. Normally in one day cricket the team wants at least one of the top 3 batsmen to bat out the innings. I decided to stick around because I was the only batsman who was set at that time. Eventually Ricardo Powell came in and really helped to push it on as well, so it was a good all round performance in the batting.
The media suggested that you were unwell.
Yes, I wasn't feeling too well. So at times when I was bowling I had to come off for a couple of overs and then go on back. The same heart thing.
You weren't at the presentation ceremony for the 5th ODI and the captain had to accept your Man-of-the-Match award
Yes, actually after I bowled the last over I felt dizzy so I told the manager I would just lie down for a while and try and relax and then see what happens from there. It was the same heart condition -- sometimes you feel dizzy.
What would you like to achieve in the upcoming series against England?
I want to achieve great things but I won't say at this time. I'm just looking forward to playing some good cricket, some sensible cricket, and hopefully things will work out. It won't be easy.
What form of the game do you prefer and why?
Both. It's a challenge for both.
Of all the cricketers you've opened with, is there anyone that you particularly like to share the new ball with?
Not really. Most of the guys I open with, I'm very close to them, we're good friends. I really have no problem with whosoever I open with and we all get along well on and off the field.
In your debut test against Zimbabwe in March 2000, you batted at number 3. Coming in to the team after being a regular opener in the regional and domestic competitions, did that affect your performance at all?
No, not really. Once you are a batsman, you should be able to bat anywhere. Some batsmen really prefer to bat in their normal position -- I'm one of those guys. I'm really enjoying opening the batting. I'd rather open the batting but for that start, I had to accept it there.
What kind of transition did you have to make from first class cricket to International cricket? Did you have to make a lot of adjustments?
Yes, definitely, because it's the highest level of cricket and things can get a bit rough up there at times, playing against competitive teams where when you're batting you don't get many bad balls. If you hiccup, you're gone.
What are some of the important lessons you've learnt in your career so far?
I've learnt a lot of lessons especially in batting, facing the new ball against top bowlers. Sometimes you really have to put the fight to them, you cant be laid back. At times they will run at you and eventually you will get out so I really have to take the fight to the bowlers. It's a tough task to open the batting and it's not easy especially when you're in the field for two days and then you're going to open the batting for 3 overs to survive the night.
Is there any particular batsman who you look up to now, who you try to emulate?
Not at this moment because as I always said before, Lara - Brian - was my batsman. He was the one I used to watch when I was coming up and he's still my batsman. He was the only one I really watched bat and that's about it.
Describe Chris Gayle, the man.
Very moody. Nice person to hang out with at times. I won't say much when I'm around people. At times when I feel like it I will do it, but it's something I don't do often.
One of your former classmates said that at school you were very humble. Has being a celebrity changed that?
No, I'm still humble. Sometimes you have to be humble, sometimes you have to sit and observe things and watch what's going on around you, then you'll know what to do.
How do you spend your spare time apart from watching TV?
Sleeping.
What's the best thing about being a West Indies player?
You're representing the whole Caribbean nations, so it's a big achievement. It's a big task and you become a role model, people looking up at you, youngsters looking up to you, so you have to set an example for other youngsters coming up.
When you go out there and play in a match, who do you want to please the most?
Myself. Nobody else. Once I bat for myself, the team will benefit from it.
We saw Ravi Rampaul shed some tears at the end of that last ODI against South Africa which was touching. When the team loses, how do you personally feel?
Very disappointed. That's the general thing for any team when they lose. You look where you went wrong.
The media has questioned the professionalism, pride and commitment level of current West Indies players. What is your response to those who say that you and your team mates are not professional, lack pride, and are not committed to West Indies cricket?
They can say what they want but from my point of view we are professionals. We do a lot of things, we really work hard, and we are committed so that's something you have to work around. People are going to say a lot of things I have no time for that.
There were reports circulating that the Jamaican players were disrespectful to the former coach and the current manager after the World Cup in 2003. Are the reports accurate?
Not to my knowledge. I don't have a clue what they're talking about.
The coach, Gus Logie, commented before the team's departure from Antigua, that the fitness level of some players was below par. How seriously do you take your physical fitness?
I take it seriously, especially over the past year or so. You have to be physically fit to be out in the field for 5 days so you have to take that into consideration and keep fit, keep the body healthy.
Did you pass the fitness test in Antigua?
I got good scores in it. I always struggle in the beep test though -- I'm not a long distance runner, I'm more like a sprint man.
It's a bit early to talk about retirement from cricket, but have you given a thought to what you will do after you have retired?
I haven't really decided as yet but this cricket gets too stressful at times, so I might get out shortly. Yeah man, cricket is stress, it's very hard. Very hectic, you're tired and sometimes by the time you squint you have to get up back to go to a cricket ground. And especially the traveling part, it's very rough. You're not home for a good period of time. But I can't complain, it's the job so I have to do it, so I set my mind to it.
Is there anything else that you would like the public to know about Chris Gayle?
I'm just keeping it real, trying to enjoy each day, each moment at a time.