Xavier Marshall Discusses Debut
Sun, Jan 16, '05

West Indies head coach Bennett King has called him "an exciting player at the crease" and raved about Xavier Marshall's fielding abilities.
It was therefore only a mild surprise when the teenage Jamaican batsman was named in the final eleven for the first match of the current VB tri-nation one-day series. After the match, Marshall talked about making his West Indies debut...
On making his debut for the West Indies:
I felt very good to make my One Day International debut. It was good for me as a youngster especially facing one of the fastest bowler in the world.
On making his debut at the Melbourne Cricket Ground:
I think it was interesting that my middle name is Melbourne and the first ground I played on was the MCG. I didn?t really realize it until Ryan Hinds mentioned it to me.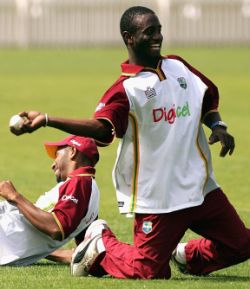 On his fielding which impressed onlookers:
I fielded pretty good but I still think a lot of hard work needs to be done. But I can cope with it and I need to keep going even though I dropped on catch which was difficult. I felt I could catch it. It hit my hand but my hat was a bit down in my face so I couldn?t see it once it went over my head. I tried to get one had to the ball because if I tried with both hands I don't think I could have reached it, the ball just didn't parry infront of me. If it fell in front I think I could have caught it.
On his batting:
I did feel pretty comfortable, Wavell (Hinds) was asking me afterwards if I was nervous. I wasn?t nervous, I had already set my mind on what I wanted to do. I got a bit too over confident in playing that shot which wasn?t on. I should have just left that ball alone.
On batting with Brian Lara:
It was good for me to get a start with the captain even though I didn?t continue. I enjoyed batting with him, it was very special for me because he?s my favourite batsman, he?s my batsman.
On what Lara told him when he got to the crease:
He said, ?first game youngster, good luck, score some runs.?
On what how his family feels:
My family feels pretty good about it. My mom called me and told me she feels good even though I didn?t score a lot of runs, she?s happy for me. I miss my mom and my family.
On looking towards the next game:
I hope I play in the next game against Pakistan and I?ll put up a better performance and I know we will win.
On the difference of playing for West Indies Under 19 and West Indies:
It is different in that it?s older guys obviously and you need to concentrate more even though we went far as the West Indies Under 19 team in the World Cup finals. These guys know what they are doing and what they are capable of. It?s the same cricket though, the same ball, same movement forward and back, so that?s what I have to keep thinking.
On his experiences at the pre-tour camp in Barbados:
I think it did a lot of good for me. I got a bit fitter, I used to run 3 to 4 miles in the morning and when I went home after the camp I started to run 5, 6 and 7 miles. I learnt a lot from Bennett King and David Moore about batting, bowling and fielding so over all my cricket has come up.
On the loss to Australia:
I feel disappointed, I didn?t want to start off on my career losing but that?s life. I know we are going to beat Pakistan so no worries about it. I?m still disappointed though. I don?t like to lose. On how he has been received in the West Indies team: The guys treat me very well especially Wavell Hinds. He teaches me a lot. He is a guy I should work with, both in cricket and in everyday life.
* Interview provided by team sponsor Digicel.