Harper & Hooper - Reality Check
Fri, Jun 28, '02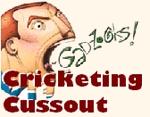 What is the prognosis on West Indies cricket? This is a serious question. The question is not just anymore whether the patient is recovering. The problem is now whether the patient actually knows it is sick.

One of the wonderful asides of the last week has been the admission that the West Indies, having decisively crushed India 2-1, were now arrogantly expecting to whip New Zealand. Arrogance is indeed a condition which can creep into the best of winning teams, but it is puzzling when arrogance and West Indies cricket are mentioned in the same sentence, much less paragraph.
Woe is we if no one can produce a reality check that there was the simple matter of a 2-0 whitewash in New Zealand to revenge. If Harper and our heroes are really tired, they should pay attention to England, yes that most whingeing of teams, yet who are in the midst of an unprecedented chain of international cricket mixed in with county cricket, and who are coping without claiming they need to rest their aching feet. I am sure they do though.

But back to the task at hand.

I have been accused, or better yet, informed that I disliked Harper for suggesting that he should be the first to go. The inability of a populace and hierarchy to separate criticism from personality is one of the first signs of an inability to introspect and to critically assess even those you personally like. It is indeed the primary reason why Caribbean journalism is stuck in a rut.

Why sack Roger Harper? Indeed, why do anything?

The populist argument, usually trotted out by some fans, the WICB and other knowledgeable folk, is that the West Indies team is poor and therefore it matters not one jot who guides the team. I will not point out the obvious hole in this tale of better the poor coach you know than the one you don't. I will instead point out that South African coach Graeme Ford, having won nine, yes nine consecutive series, with a team that arguably based on its comparative results in India and West Indies, was better than the Aussies, was fired as soon as the Aussies beat South Africa comprehensively home and away.

Were Graeme Ford West Indian he would lose the coaching position only via the coldness of death. Not with that record.

But this is the Caribbean we speak of. The deference to low standards is such that Harper cannot fathom not serving out his full term. This is not just professional sport (in the Caribbean it barely is), but a social club that assumes it is bad form to interrupt the flow of proceeding till the time is 'right'. The plantocracy never dies.

Why get rid of Harper? J'accuse Roger Harper of being totally incidental to the West Indies team. Never knowing whether the team loses because it is tired or not mentally focussed. Whilst on tour, nonplussed by the difference in motivation and desire to compete. Always asking for more patience AS IF the Caribbean cricket fan has somehow actually been impatient with authorities who are ironically getting us to pay plenty more money for the privilege 'not to' complain.

There is an absence of standards in the Caribbean at every level. I was subtly amused by the protestations of one certainly more esteemed writer on the case of one 'Sir' Carl Hooper. My question? Why would the person, who was critical of Chris Gayle's lack of 'technique', be so eager to drop Gayle with an average of 30 when they tolerated the mediocrity of 'Sir' Carl for eleven years for 4 runs more average. Apart from the limp technicality of an explanation that assumed that 4 runs was a huge difference in determining mediocrity, the core of the answer was a reference to the beauty inherent in Hooper's batting.

How can anyone compete with the empirical weight of such an answer? And how can anyone build a case against Gayle, averaging what he is, budding all-rounder and outstanding slips man. I am yet to receive an answer.

The here and now of things though now mean that the impressive return to international cricket by 'Sir' Carl seeks to absolve him of any accusations of contributing to the current woes of the West Indies team.

Digest these numbers for a moment: 35, 54*, 5, 21, 5, 6, 4, 9, 13, 1, 22, 6, 16.

Except for the ommission of a few DNBs, notably in Zimbabwe and in Bourda and Antigua, the sequence of figures above aren't a range of ages of R Kelly' s potential girlfriends but 'Sir' Carl's second innings scores since he has returned to the captaincy. Hooper has indeed spectacularly filled in his boots vs the likes of India, but the reality is that under second innings pressure, Hooper has failed almost every time since his return.

So, when he appeals for greater maturity and composure under pressure, the guffaws from the dressing room must indeed only be stifled by how 'pretty' his batting looks. So we have a coach who doesn't understand why the team is failing when it does, and a captain who demands composure that he himself cannot muster. What's next? Stock market tips from the WICB?

The guide word is accountability. When you have a lack of credibility through many levels, no one can and will be accountable, but this is exactly what our cricket needs. Why should Sarwan, the next great Caribbean batsman and the best performing of the young brigade suffer when the likes of Sanford, Gayle, Hinds and Jacobs have all been mediocre at different points? The reason? He needs to be held accountable and indeed spread the message to lesser teammates that if West Indies could drop someone both the fans and selectors value more than others as a contributor for one match, that their careers were on the line next time they batted foolish.

Sarwan should have been dropped for the game in Grenada. He would return against India a wiser man, and his teammates even more wiser and more wary of their shot judgement.

Is this rash? No. Is this hasty? No. Indeed, it is the most reasoned thing the West Indies hierarchy could do but it would indeed open a can of worms about being consistent in their quest for accountability.

But once again there is constant proof that West Indies fans have not only the team and WICB that they deserve, but also that they will continue to deserve the results.

Me. I await the day when we treat this sport with the respect and love that it deserves and when we break the shackles of colonialism and have standards that reach beyond the paranoia of protecting 'your own' as if we are still working in an 'US and THEM' context. We are not.

The management, the cricketers, are paid professionals doing a job poorly and they should suffer the consequences. No amount of sucking rum, and no amount of coaching credentials or 'quiet resolve' can change that fact. Unless you have the standards that the WI cricketing public seem to have.