Coming to America: World Cup Cricket
Sun, Mar 9, '03

republished from THE OBSERVER
Forget forfeited matches, the Duckworth-Lewis method and the failure of many of cricket's biggest nations to make the Super Six, the World Cup's biggest talking point is still to come. The International Cricket Council are to stage some of the 2007 World Cup's matches in the United States - and might even use Disney World as a venue.
Despite its status as a cricketing backwater, the US will host several fixtures when the sport's premier event is held in the West Indies in four years' time. The plans have already upset some of the Caribbean islands, who fear Uncle Sam could deny them the lucrative honour of staging games in one of cricket's strongholds.
While senior marketing executives from the top level of cricket administration say the move to America is a done deal, the ICC claim plans are still to be finalised. 'The tournament organisers are going to invite bids from countries and islands which want to host matches in 2007 and, yes, America is in with a shout for some of those games,' said spokesman Mark Harrison yesterday.
'The idea of games in America is very intriguing, but it's also a legitimate prospect, because the West Indies are quite close to America and there's a big population in America that's interested in cricket.' Chris Dehring, managing director of tournament organisers Windies World Cup 2007, who will decide where games are played, said putting some games on in America could help the sport in the long run.
'The ICC have objectives for [developing cricket in] the US and, as a member of the international cricket community, we would naturally look at supporting the ICC's objectives. The 2007 World Cup is such an opportunity, so it will be explored,' he said. Dehring said Florida was the likeliest location.
He has had preliminary discussions with several cities there, including one 'very strong expression of interest', thought to be from Miami. The state's weather, large West Indian community and rarity value as one of the few places in America where cricket is played will all help. Florida could also prove a more appealing venue than some parts of the Caribbean, where facilities, transport and stadium capacities are often poor.
Disney World, the huge entertainment complex in Orlando based on the appeal of characters such as Mickey Mouse, could even become a venue. It has already staged minor cricket events, and several years ago the ICC planned, but were forced to scrap, a tournament there to help them market the sport among America's 280 million citizens.
The United States are ranked 16th of the ICC's 84 member countries. They failed to make the grade for the current World Cup after finishing fifth in the 2001 ICC Trophy qualifying competition behind Holland, Canada, Namibia and Scotland, the first three of whom qualified. The Americans who play cricket are mainly of Indian, Pakistani and West Indian descent, in places such as New York, Los Angeles and Silicon Valley, California. Most leagues are local, though, and the standard is still well behind even Ireland and Scotland.
Until recently America's captain was Faoud Bacchus, the former West Indies batsman, who was still playing in his late 40s. Andrew Hall, of cricket website cricinfo.com, said America deserved serious consideration as a host country.
'Between 2.5 million and 3 million people in America visit our site and Americans account for 25-30 per cent of our traffic - the highest from any one country,' he said. 'It wouldn't be that unusual to hold some World Cup matches in the US, given the ICC's strategy of trying to develop in new places a game whose appeal is still geographically quite limited,' Hall added. 'They play some Major League baseball matches in Japan, so why not cricket in America?'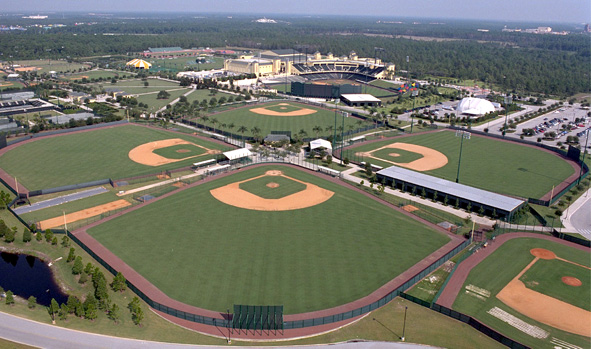 The Disney Sports Complex in Orlando, Florida.