Holder looking for better
Thu, Apr 26, '18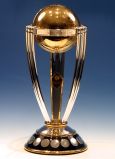 Captain of the West Indies Jason Holder says 2017 was a reasonably good year for his team but the regional side has to be more consistent.
The West Indies won three of the ten Test matches they played last year, lost six and one was drawn. They defeated Pakistan by 106 runs at Kensington Oval, staged a remarkable five-wicket victory against England at Headingley and won by 117 against Zimbabwe in Bulawayo to clinch the two-match series 1-0.
"We are at a stage in our careers where we are looking to make a progression forward. Last year was a reasonably good year for us, we won a couple of Test matches and a Test series. The beauty of winning that series in Zimbabwe is that most of the guys got the feeling of what it was like to be victorious in a Test series for the first time. We got to try to be more consistent, the lack of consistency has hampered us in the past, it is an area that we have to address," Holder told Barbados TODAY.
The West Indies' next Test series is against Sri Lanka in the Caribbean from May 30 to June 27 and Holder said the players had been using the time to prepare for the series which includes the first day/night Test match in the region to be played at Kensington Oval from June 23 to 27.