The Best Fairytale (Part 1)
Sat, Mar 13, '04

MICHELLE MCDONALD introduces Tino Best
Tino Best asks me to hold on for a moment while he gives a souvenir tee-shirt to the Housekeeping attendant stationed on his floor at the Jamaica Pegasus. He comes back, at her request, to write a note to go along with the gift. He writes, then he pauses to re-read it out loud to make sure it is just right. Nothing short of his Best is good enough, it doesn?t matter who you are.
Polite, respectful and ?mannersable?, Tino LaBertram Best developed these attributes from his grandmother with whom he grew up. His mother, having given birth to him at the tender age of 16 at the Queen Elizabeth Hospital in Bridgetown, entrusted the care of her infant son to Marcia Best who she knew could do a better job. He gives his grandmother all the praise, for first, his ascension to play cricket for the West Indies, and second, his comeback after returning dismal figures in his solitary test match during the 2003 Australian home series.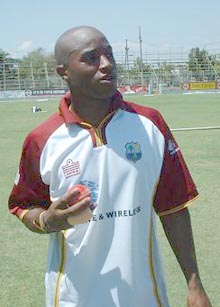 What?s in a name? Tino says he was named by his father. ?Tino means ?vulnerable and majestic? and Bertram means ?great? so with La, it means ?the greatest? and Best is obviously ?The best?. I?ve always loved my name since I was a kid?. It is perhaps too soon to say definitively if his name describes him aptly as it pertains to his cricket performance. Brimming with confidence, but very aware of the hard work required to reach the pinnacle, Tino expects great things from himself. But that came about only recently.
Unable to make the Barbados U-15 and U-19 teams because he wasn?t good enough, Tino was quite satisfied up to the age of 16 bowling his medium pace and batting number five at the club level in Barbados. The religious Best would probably credit him meeting the man who would change the course of his life, to divine intervention. ?One day, I was approached by a man named David Dowdridge, he?s a Lieutenant Commander in the army, and he saw me playing a 1st Division game for Pickwick Cricket Club and he said ?boy, you?re so talented, you?re West Indies material? and I was like ?me? You mean real West Indies like where Curtly Ambrose and them play?? I was like ?nah, not me, I?m not that good. I?ll never be that good?. And he said ?I don?t care what you say, I believe in you and I think the right place for you is the Barbados Defence Force Sports Programme? ?.
The next step was for his grandmother and mother to give permission for him to enter the programme 2 years under the normal entrance age of 18. That they did, but Tino was apprehensive about entering the Sports Programme. He asked of Dowdridge ?you mean army, like a solider?? Dowdridge confirmed that yes, in a way he would be like a soldier. ?I said ?man I can?t handle that?. I tell him I can?t handle that. That go be too hard for me?. Indeed, a baptism of fire was awaiting him.
Tino spent eight weeks in boot camp and shed tears at the beginning and at points during the rigorous training period. ?I cried a bit, I won?t deny that. They made me do push-ups and sit ups and run all about the place. I said ?I can?t take this no more, I want to go home?. Home with Grandma was a place where he could feel safe and be loved. Best continues ?The corporals always kept saying ?don?t give up man, don?t give up, you?re the youngest to ever come. Make history man, come through? and I came through successfully?. He didn?t know at the time that this was their way of showing him their love.
Best spent five and a half years in the Sports Programme where five disciplines are offered ? football, cricket, table tennis, athletics and boxing. The Defence Force recruits some of the most talented people in the country and pays them a stipend of approximately BDS$1,300 per month to concentrate on one. This quantity of money would make any teenager?s eyes light up. Exclaimed Tino ?oh my gosh, all this money man, I don?t even know what to do with it?. Best splurged on himself with the first paycheque he received. ?I went in this really nice restaurant, in Christ Church, I went and had a nice dinner?.
Food was definitely required if Tino?s body was to handle the rigorous work routine demanded by the Sports Programme. Tino explains that ?You would get to work at 6 am, train from 8 am until 12 noon with Coach Henderson Springer, he?s the coach of the Barbados team and he would give you drills?. In the afternoon, it was time for the brain to get a workout. ?You?d do ?O? Levels and if you?re really advanced you would do ?A? levels and if you really do real good they would send you to the University of the West Indies?.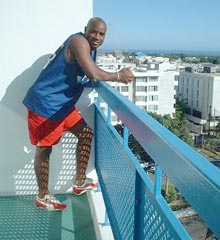 At 16 ? years old, Tino felt this, coupled with the regimented nature of one?s existence in the Sports Programme, was too much. ?I said to myself ?I don?t like in here at all?. There was so much command. You had to be dressed properly press your clothes, brush your shoes. Boot camp was finished and you still had to be looking sharply shaven with a nice hair cut, and well groomed?. Tino didn?t see the advantage of this discipline at the time. Soon, he would see the light.
An internet article suggested that as a teenager, young Best needed some ?behaviour modification?, an avenue where he would channel his energies into something useful and constructive. I asked him if this was true. ?Not really behaviour modification but I think that at 16 years old Michelle, you know that?s the time when drugs is coming in. I never did drugs because my grandmother always had me straight but you know, in the environment, you would go to school and everybody challenging you, you?ve got girls, you got a lot of sidetracking at 16 years old and the army programme really really brought out the best in me?. No pun intended!
But it really did bring out Best to the cricketing world, first in Barbados, then in the region, and now to the world arena. Before this, he was an unknown. His coming of age started in 2000, which Tino describes with twinkling eyes as a fairytale. ?This is where my story really begun. In 2000 I was practising in the nets in the Sports Programme. I was bowling a little medium pace because I used to bat at 5 or 6, because I always tried to walk in my uncle?s footsteps?. In case you?re wondering, yes, Tino is the grand nephew of former Barbadian and West Indies opener, Carlisle Best.
He continued to take me through the journey that has brought him to this point in international cricket. ?The coach was saying ?you?re hitting the bat a little hard here, nice pace. Why don?t you try to be an all-rounder?? So then I started to lift weights and tried to really work hard at my game and all of a sudden I just started to bowl fast?. Best says this with surprise, this disbelief also expressed by those around him. They said ?this guy too short to bowl fast? and the 5 foot 8 inches Best started questioning himself. Before he started a game he would look in the mirror and talk to himself saying ?how the heck you get to bowl so fast??
In a match between the Sports Programme and Bristol Cricket Club in the finals of the Premier League, Best says he ?bowled so sweet, struck some batsmen in their chest?. Again, people stood up and took notice, including Best himself. His conversation with himself sounded like this ? ?this is little Bessy? What really going on here man??. This was December 2000.
Christmas came and he continued training with a view to bowling faster when the Sports Programme team got promoted to 1st Division. ?I want to be the talk of the town? he declared at that time. The year 2001 arrived and South Africa was in the Caribbean and needed net bowlers for their training sessions. The coach said ?Tino, you want to go?? Tino tells me what he replied in a very animated manner. He said ?no, I don?t want to give them no practise to lick bout we!? His coach advised him that this would be a good opportunity and as he was raised by his grandmother to respect his elders, he went and bowled. Little did he know that noted former West Indies fast bowler Colin Croft was watching.
Afterwards, Croft came over to him and said ?who are you? What is your name?? His lineage having been established, Croft then said ?the whole South African team is so impressed with you. You ever played First Class cricket?? to which Tino sheepishly but proudly replied ?no, I?m just a local cricketer?. Jacques Kallis, the punisher of West Indies? bowling attack in the recent tour of South Africa was on that Caribbean tour. Recalls Best, Kallis said to him ?how you so small and you hit my bat so hard? You?re sharp. You?ve got some pace?. Ntini fell in love with him.
That was when Tino knew he was capable of something special. To show that he was not a fluke, on the last day of their training, the South Africans tried him with very old balls, and they were impressed that he could bowl inswingers with them. The South Africans were surprised to learn that Best had played no representative cricket for his country nor for the West Indies.
His team-mates from the Sports Programme rushed to tell the coach ?Coach, coach you know what happen? Tino bowl fast?. The coach reminded Best of his advice to him when he was hesitant about going. He said ?See what I tell you? I tell you to concentrate?. Shaun Pollack wrote a series of articles for that tour and said the best young thing he?d seen in the Caribbean was Tino Best. According to Tino, the South African coach Graham Ford went on Uncle Carlisle?s sports programme ?Best & Mason? and said that the best youngster he saw bowling in the Caribbean was Tino Best, noting that Best had pace and felt that the Barbados team should let him be himself.
Everybody started looking out for Best, and then the unimaginable happened. Tino got hurt. Another young bowler with a back problem which would see him out for at least 4?5 months. Best started to cry. His mother provided motivation at this low period in his career. She said to him ?Tino, don?t give up. If you really want to play the cricket just behave yourself?. His mother had recognized an aggressive attitude that was emerging in him and said to him "how you does get so vex when you bowling?? Perhaps this was a sign of the making of a good fast bowler.
** In part two, Best talks about dominating the regional first class competition, his forgettable Test debut and the emergence of a father-figure in Wayne Daniel.