Windsor Parks Stadium: Gift or Burden?
Thu, Apr 27, '06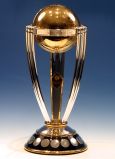 In Dominica, the average sports fan, more so cricket fans, will be elated come December 2006, the carded end of construction of the Windsor Park Sports Stadium. The stadium is a gift worth EC$33 million, from The People's Republic of China to the government and people of Dominica.
The mostly cricket stadium located in downtown Roseau will be of International Cricket Council (ICC) international standard and will accommodate state-of-the-art facilities featuring 10,000 seats, a media centre, practice nets, players' complex, digital score boards and five cricket pitches.
The young and aspiring cricketer should be ecstatic because after decades of empty promises, the cricket stadium is finally a reality. The Government of Dominica should be and probably are proud that they could deliver this facility, without burdening the Dominica Treasury.
So all looks well finally in Dominica as far as the sport of cricket goes? After all, cricket is one of the more popular games in the Caribbean. There is already regional management and physical infrastructure for the game in the Caribbean. It brings in revenue to countries which host international tests and one day international (ODIs). Just ask the tourism departments in Antigua and Barbados to get firm facts of the economic spin-offs that is derived from hosting international games especially versus England and Australia.
Additionally the Texan/Antiguan billionaire and businessman Allen Stanford has introduced his multi-million dollar annual 20/20 tournament. On the surface cricket infrastructure looks a good investment for any Caribbean country.
But is it so for Dominica? Is the new stadium going to impact our tourism industry and the economy positively? How will the stadium support itself? Well, maybe answering the questions to follow may help the reader to decide.
With the new stadium will we be able to host any Cricket World Cup 2007 (CWC07)? The Government officially indicated in April 2005 to WICB, their interest in being involved in CWC07.
My Answer: No. It is too late for us to benefit from CWC07. The awards for hosting the CWC07 games were handed out in July 2004. Moreover, Dominica did not submit a bid.
Further, the completion date for the stadium is Dec 06, just over two months before the actual the mid-March CWC07 Opening Ceremony. Even if Dominica had placed a bid we would mostly likely have been turned down. St. Vincent?s bid was turned down b/c they did not have enough hotel rooms on St. Vincent and because they do not have international airport.
They managed however to get some practice games because they at least have night landing up to 11pm at night and an ICC endorsed cricket stadium which they have repaired and upgraded just for the practice matches. Unlike St. Vincent, we have no international airport, no night landing to talk of and approximately 300 hundred international standard hotel rooms!
Last but not least Dominica is not a traditional cricket venue as opposed to a country like Guyana who also has accommodations problems. In the history of West Indies cricket Dominica hosted one ODI in 1977/78 at the very Windsor Park.
Would we not be able to host CWC07 matches if something happens to one or more of the selected stadiums, for example damage during hurricane season 2006?
My Answer: Well there is a small chance, a very tiny chance that is. But for how many hurricane seasons over the last two decades was Dominica spared while other islands were hit? If we are lucky to have a repeat of hurricane season 2006 this year, then maybe but Bermuda is already lined-up as the ICC official back-up venue.
In the case where there is need for more than one back-up stadium we would probably be lucky if the whole tournament is not moved to South Africa or Australia. If it remains in the Caribbean we would have to stand in line behind a second stadium in T&T and bid submitters in Bermuda, T&T, St. Vincent and Florida. Yeah a small chance in hell is right.
So what about hosting practice games or games between the fans? There has been some discussion with WICB world cup committee in this regard?
My Answer: From where I sit, I don?t know which rational fan would come for practice or fans games when they can't get out in the evenings after the games are over and into their rooms in St. Lucia and Antigua? Where would we put them? We might as well scratch that idea.
If we were to host any of the practice or fans games we would be again sitting behind places such as St. Vincent, Bermuda and Florida and maybe even grounds in St. Marten with FC grounds and easy air access.
Okay, forget about CWC07. You can say we've missed that boat. How about other events like the World Creole Music Festival (WCMF) and regular cricket tours post CWC07?
My answer: I don't see how we can just forget it (CWC07). Any stadium in the Caribbean that misses that boat has basically missed it all. When again will any cricket venue in the Caribbean be able earn significant surplus to buoy upkeep and maintenance costs in future slow periods?
But on to other possible revenue streams, WCMF and cricket tours. If one talks to the organizers of WCMF they will understand that the biggest stumbling block to attracting the big bands, larger numbers of visitors and also international media to Dominica for WCMF is the sad state of our air access.
It is just simply murder getting into and leaving Dominica around festive times. The big names don?t even bother. Again the absence of an international airport or having only very limited night access is the recurring problem. Until air access is improved I can say with certainty that all we will experience is just a transferred small festival, crowd and bands, to a bigger venue.
In regards to international cricket teams touring the Caribbean to keep ICC commitments, we will stand behind the more popular and traditional venues in Guyana, Jamaica, T&T and Barbados. As it is Antigua, Grenada, St. Vincent, St. Lucia even St. Kitts will be in front of us as well and for nothing else but our problematic air access. It is important to note also that the Government of Dominica has indirectly given 2030 as the year for the start of construction of an international airport.
One also has to factor into all this, the low rank of West Indies team in ICC world cricket standings. The number 8 position out of 10 test teams means that most touring teams will most likely not play more than 4 test matches in the region. For the six-year period 2000-05 for example, the West Indies played 35 tests and 48 ODIs at home. This averages at just fewer than 6 test matches and 5 ODIs per year.
For the Future ICC tour programme 2006-2012, I have estimated, from the total schedule matches for West Indies 2006-2012, that they will play 5 tests and 9 or 10 ODIs per year. Do the math. We will have ten other venues besides Dominica?s post CWC07.
This means that even with a possible 10 ODIs per year scheduled for future home tours, the matches will have to be shared among eleven venues. Without the night access and hotel rooms we are hamstrung in our ability to compete with other Caribbean stadiums and this therefore maybe restrict Windsor Park Sports Stadium ability to earn income from even ODIs.
Zimbabwe and India will be here in 2006, but WICB has already scheduled the venues for these tours. Given the moves afoot in India to sidestep the ICC futures programme, in order to play more matches against the more lucrative teams of English & Australian, one would be hard press to put much faith in the ICC schedule beyond 2006. Additionally Australia has already indicated that they will not tour the West Indies in 2007. So that leaves England only for 2007 and those matches go the traditional venues in Barbados, Jamaica, Trinidad and Guyana. These games will be lucrative and they (the big four) have the power advantage in West Indies cricket. None of the other teams draw crowds to venues and so we might be granted some ODIs for the Bangladesh and Sri Lanka tours in 2008.
Prime Minister Skerritt had responded to pessimists at the start of construction of the Windsor Park Stadium by saying and I quote: "The question is would we prefer to have the Windsor Park in the state it is and nobody can make use of it?" Would one prefer to keep the eyesore that existed or accept the generous gift from the People's Republic of China of an international cricket stadium?
My Answer: Without an international airport in the near future, this Windsor Park Stadium is just a waste of a showcase infrastructure in the short-term. I predict it will morph into a white elephant eventually. Do we have any idea what it will cost to up-keep the stadium? I don?t think any thought has gone into plans for transforming the stadium in order that it is utilized for other revenue generating purposes outside cricket and possibly football. I doubt whether anybody has looked that far ahead but the most important business of the stadium's management should be generating revenue from the facility. Without proper night access into Dominica at least, they are severely handicapped.
Maintenance will be a major cost to come from just having the stadium but it will not be the only cost to Dominica. Maybe it would have served us better to establish a park, another green-quiet zone in the city, with a few benches and trees. The location of the stadium is not ideal as it is down town Roseau. Granted it is in a corner of the capital but it is estimated that when the stadium is in operation, serious traffic congestion will be experienced.
The stadium is also located near the Roseau River but in spite of this there is strong suspicion that there was no full-fledged environmental impact assessment conducted for the stadium. It appears that the effects of stadium waste, traffic etc on the river has been left for discovery after they actually occur. I guess the Roseau River is something we are prepared to lose even if both landmarks could coexist. It is practically dry as it is but maybe there are plans in the pipeline to restore the river. Interestingly this years has been declared the year of the rivers by one of the more active local environmentalist NGOs. So anything is possible, I guess.
Another interesting matter is that new stadiums according to ICC requirements since 9/11 should have a perimeter buffer zone for security purposes. It is not coincidence that most of the new stadiums are built out in open areas away from the congestion of capital cities. Whatever the depth of the buffer zone, it is practically impossible to achieve it here, as Windsor Park Stadium has neighboring buildings that include the Dominica Grammar School, The Government Headquarters/Ministerial Building, public main roads and the Financial Complex to name a few.
Finally it has been intimated that in order to supply the stadium with electricity/power for night events it would require that the entire capital and its environs be without power. In other words, Roseau will experience a black-out when ever the stadium is in use at night.
Call me a pessimist or party pooper, but from my analysis of information available to me on the Windsor Park Sports Stadium, it appears it may go from gift to burden in no time more so if air access into Dominica is not significantly improved.
* Republished with permission from The Hand I Fan With