On Cozier, Becca, Croft & Mason...
Thu, Apr 25, '02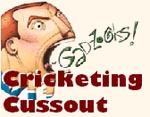 In this second 'Cussout' on the state of the cricketing media in the West Indies, I will avoid the events at the Queens Park Oval. Those speak for themselves. We will come to that later as the series progresses. There is still a lot of cricket to be played.


In the first 'Cussout', I concentrated on some recent examples that illustrated what we are working against in the Caribbean. The 'doyens' are deemed as such because they are either widely heard or read, or have such a long history within the region that you cannot help but hearing of them. They engender respectability.
Tony Cozier
is the primary doyen. In fact he probably represents the good and bad of everything in West Indian journalism. His chronicling of WI regional and test cricket through the Shell Shield, Sandals, Red Stripe and Busta Cup eras have been like gold. His often singular quest (using his own resources I might add) to travel the world being the voice of Caribbean cricket has made him instantly recogniseable both on radio and television.


I can tell you that as a young boy listening to the West Indies playing in Pakistan on radio and sitting through hours and hours of Urdu commentary (scores were given in English) only became really worthwhile when, for half an hour, English commentary would come on and Cozier would describe what had happened. It was like water to a thirsty man. He has been an ever present source of information for West Indies fans.


But, Cozier, like Tony Becca, is heavily compromised. How so? Let Cussing Commie get into the details. Like many groups of senior officials in the Caribbean, Cozier and Becca are party to the same social clique on which they report. Unlike CLR James, for example, who was a strong critic of the establishment, Cozier 'represents' the establishment.


In this era of Wes Hall's tenure as WICB president, it is no more likely to have Cozier contribute anything of critical (but valuable) note as it was in Colonel Peter Short's reign. This in effect creates an atmosphere of sycophancy which apologises for everything from genuine concern over the
state of the World Cup plans (did you not see how Cozier speaks for Chris Dehring on cue?) to West Indies team selections.


We, the fans, in essence have little representation at the highest level of West Indies cricket coverage.


Becca is Jamaica's retort to Cozier. Fans online especially have recently been alerted to Becca's style of writing, which draws wholesale criticism for being longwinded. I have no issue with his style. It is the substance I worry about. During the Rousseau regime, Becca was heavily compromised by his relationship with Rousseau. In effect, it rendered him unable to separate himself from the errors the WICB committed then and properly report the events.


On the flip side, we had a now vibrantly indignant Cozier. He represented the other side of the cabal, waxing lyrical about the ineptitude of the WICB, unshackled then he was by everything from the moving of the WICB secretariat to the holding of the regional finals in Jamaica.


One of the more ironic stories in Rousseau's reign was the one where, on the ill fated tour in South Africa, both Becca and Rousseau and their wives were carjacked together. It was almost symbolic. A family travelling together.


But what can that do to cricket coverage? Well, it distorts reality by selectively ignoring
tell-tale signs of incompetence. On the tour in South Africa, many disturbing behind-the-scenes
incidents came to fore. Becca was illuminating only for those who prefer candles to electricity as a convenience. Cozier was at his scathing best, producing some of his finest journalistic pieces that he has ever written, including one, ("Chickens coming home to Roost") that is a classic description of what is happening to WI cricket. But it was only possible because he was not
Becca and Rousseau was not Hall.


On the tour of England in the mid 1990s, with total chaos reigning and a schism between the Leeward Island players and Lara and Bishop, Richardson 'catching' hell, and Hooper almost breaking down under his own personal pressure and being forced to open, we got more generic material and not
coverage of what affected our cricket so badly then. Clue: The Colonel was WICB boss and Wes Hall was the team manager. Criticisms were kept in check.


Now of course true to form, Becca is now free from the Rousseau link and is writing better material (style notwithstanding). Cozier is now back in generic mode. Criticism is all polite and well proofed and very careful.


It is a cycle which is not sustainable.


Both are commonly weak in their reactions to the selectors. When not one Caribbean journalist picks up and explains on why a Darryl Browne is selected, it leaves us exposed. And when you couple that with the fact that except for a rare few, most Caribbean journos do not travel regionally with
their teams and therefore have to depend on local descriptions of players and their merits, you are left with pretty much a blank slate which presumes the selectors know better.


In essence the major journalists don't go to the games unless they are local, have no background on the players, and are therefore loathe to do anything other than wonder aloud in case their lack
of research is uncovered.


The fans deserved to have had someone explain what Darryl Browne merited his selection to the West Indies team, when all-rounders like Carl Tuckett, Ian Bradshaw and Wilden Cornwall had been dismissed as sub-standard. Not even our 'doyens' could provide this. Hell, not even local Trinidadian advocates could provide this. None of them could explain how Dave Mohammed went from refreshingly surprising pick and touring West Indian player to not even being able to make the Trinidadian team.


Or, why Sherwin Campbell won a recall to Sharjah ahead of Leon Garrick and then both are ignored.
If Garrick does indeed have an attitude problem or cannot handle spin, then write about it. Leaving situations undiscussed creates more myth and more insularity.


Of course, there is also a void at another level and that is in following the regional team internationally. Cozier is often still the lone voice. Colin Croft, the former WI fast bowler, erstwhile cricketing rebel and fine family man that he is (lends a new twist to 'backhanded' compliment, eh?), has attempted to step into that void, providing reports for both Cricinfo and the BBC.


Croft is on a loser from day one. Whether it is fair or not, he is and always will be forever associated with his compliance with the apartheid regime of the day in SA by becoming a rebel cricketer. It is not that incident in itself that made me feel unsympathetic towards Croft, but
his insistence that he paved the way for change rather than just admitting that he did it for the money. He is the rebel WI cricketer poster child. All the others kept a low profile. Good idea that.


Anyway, stepping aside from the morality Croft provides reports on WI cricket overseas, colour commentary on the radio and player interviews. What galls most about Croft is his predilection for setting up someone for a fall. In the Caribbean it is often called 'goat mouthing'. With Croft
you could say the term actually fits his commentary. It was Croft who first said that Hooper's captaincy would elevate WI cricket from its mire and show that Hoops was indeed to be spoken off in same breath as Worrell and Lloyd. That was before Hooper had even stepped out in his first series as captain.


His critique of the players is not as bad as it seems (like it or not, people are biased against Croft's views because they don't like him). He is strictly a colour commentator, meant to bring up the hackles of fans and also meant to be put in his place by a strong lead commentator. Taking him that seriously is not, and should never be advisable.


Recently, there was an odd case of peculiar similarities between Croft's and Everard Gordon's writings in the Trinidad Guardian, but in general Croft's reporting is generic enough to appear correct until you delve deeper and look at in-depth descriptions of events and players. What we should cuss is that Croft is the highest profile WI reporter on tour, bar Cozier. His ability to market himself on his past career (no, I am not talking about aircraft piloting) must have worked
because he is getting paid to do this. Again more irony, we have someone who is not universally liked or even respected as one of the mouthpieces of Caribbean journalism.


Andrew Mason is interesting. He is interesting because he represents a phenomenon. Someone relatively young who is active regionally yet who has never developed beyond his own insular thinking. That's my opinion, of course.


No commentator in the Caribbean has promoted their own island's players like Andrew Mason often has throughout the Caribbean. It is not to say Mason cannot do ball-by-ball commentary, but if you lived in Trinidad or Guyana or Jamaica and depended on Mason to compare Courtney Browne and Ridley Jacobs, the impression would be that Jacobs was a batsman who could keep a little. The statistics, at every level tells a different story. And that's where coverage like that becomes
criminal because our perceptions are developed by those who see the players more than we do. Worse still, Mason's knowledge of even regional cricket history is poor enough to leave him exposed to be of scant use in educating listeners about little details in our cricket.


Lack of analysis kills our cricket. I have not seen one article describing what went wrong with Ricky Christopher, why Kerry Jeremy is deemed 'too slow' when none of our bowlers are quick, why Jermaine Lawson gets called up to Sri Lanka as a rookie, but now falls behind
Marlon Black and Adam Sanford in the pecking order at home and what makes Pedro Collins special besides being able to do that trick where he bowls with his left hand. And I am still waiting for someone to explain why Robert Samuels was dumped averaging 37 as an opener after a tough Australian tour.


I will deal with the new guys like CaribUpdate.com's Hamlet Mark and Ian Bishop in my
final installment. Meanwhile, the Indians leave the comforts and support of their homes away from home for St Lucia where they will start to understand they are in a different part of the world.


About time.