The Jermaine Lawson Blame Game
Tue, Jun 8, '04

When the euphoria of a rare test match victory over Australia was shattered by the news that West Indies fast bowler Jermaine Lawson was reported to the ICC for throwing, fingers pointed and tried to find a resting place.
Who should be blamed for allowing the career of one of the bright prospects in West Indian cricket at the time to be interrupted in the manner in which it was? After listening to Gibbs Williams, you can come to your own conclusions.
But just who is Gibbs Williams, and how is he integral to Jermaine Lawson's history?
The year was 1996. The place was Chedwin Park, home of the St Catherine Cricket Club in Jamaica. Horizon Park All Age school was playing there in the finals of the then named Carib Cement competition finals. Lawson was a member of the team, but interestingly, the youngster who caught Coach Williams' eye for his bowling ability was Michael Johnson. Lawson came to Williams' attention for another reason. According to Williams "when I looked at the other end, I saw a tall slim youngster. He wasn't bowling well, he was all over the place, but I was impressed with his pace". Lawson took five wickets to help his school to the trophy.
Williams went over to congratulate the coach of the Horizon Park All-Age team. Unbeknown to him, Jermaine's mother was watching, and later sought out Williams one day at Chedwin Park. "She came to me to ask if I could assist in getting Jermaine into high school because she couldn't find one that would take him". Williams was in his first year as the Physical Education teacher at Waterford Comprehensive High School, and the cricket team had entered the Sunlight Cup schoolboy cricket competition for the first time.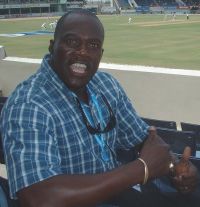 The coach decided to help Lawson, along with four other talented youngsters from that winning All Age team, not unaware of what their presence would add to his cricket team. They were the twins Dean and David Morgan, Michael Johnson and Dwayne Crosgill. The Waterford principal agreed to consider the teenaged cricketers. She set them an entrance test which they all passed. Immediately they made their mark in the cricket team. Waterford entered the Colts (U-14) competition for the first time and reached the semi finals, only to be beaten by Kingston College.
What was Jermaine like as a cricketer at that time? "He had some pace, but his consistency and line and length was extremely poor. I decided to work on a lot of spot bowling with him" said his high school coach. Williams said that Lawson was very eager to bowl, especially since he realized that he could bowl fast. But the coach recognized that this eagerness had to be tempered. "I tried to convince him that he couldn't bowl the whole day at a fast pace. Jermaine enjoyed bowling, he worked very hard and he believed in himself".
In his second year at Waterford, Lawson made a lasting impression on his coach. The team made the semi finals and met Campion College, the defending champions of the Colts competition. Williams said "we batted first and at lunch we were 60-plus for five. Bowling was not our strength at the time, so I had a very stormy team meeting and at the end, asked if anybody had anything to say". Lawson asked the coach if he was finished, and after confirming that he was, Lawson said "Coach, you just leave everything to me". After lunch, Jermaine went on to score 49 runs, contributing to Waterford's total of 195.
At Campion's turn to bat, they closed the day on 120 for 3. Again, Jermaine told the concerned coach "I tell you to leave everything to me coach". At the end of the game, Lawson had taken 7-35 and Waterford was in the finals.
The question is, were those wickets taken from legal deliveries? "From where I stood then, yes. Most people can't pick it up with the naked eye", said Williams. He added that, up to that point, Lawson had never been called for throwing by an umpire.
That was 1997 and Lawson was selected to Jamaica's U-15 team. He had now therefore entered a national programme under a different coach. In 1999, Lawson represented Jamaica at the under 19 tournament and was the leading wicket taker. In a review of the competition, Tony Cozier advised authorities to take a look at Lawson's action. A friend of Gibbs Williams saw it, called him, and advised him to read it. But Williams says that with the naked eye, he could not detect the fault in Lawson's action.
This was not the first time though that the coach was being advised to examine the action of the young fast bowler under his tutelage. In 1997, after a match with Kingston College, their coach Roy McLean, who has been coaching from the 1960s, advised Williams to take a closer look at Lawson, particularly his bouncers and yorkers. Williams told him that he was aware that there was a problem and that some work had been done with Lawson. Williams took the initiative to ask the Creative Production Training Centre to video tape Lawson at a Sunlight Cup match against Wolmers Boys. "As a coach, I owed it to him to start remedial work, if it was necessary".
Lawson knew that he was being video taped, but didn't know why. Once Williams got the tape, he admits that "at the time, I didn't know what I was looking for". He called on a man who he thought could help.
"I called Steve Bucknor, because I know that as an umpire, he ought to know what throwing is" said Williams. They went through the tape at Lucas Cricket Club and umpire Bucknor made recommendations as to how to sort out Lawson's action. Williams went away with Bucknor's advice and during training, the coach had Lawson standing and delivering from a slinging action. Says Williams "at practice during the drills he would be perfect, but during matches he would go back to square one". It meant that Lawson's muscle memory had not yet unlearnt the old habit and learnt and frozen the new legal action.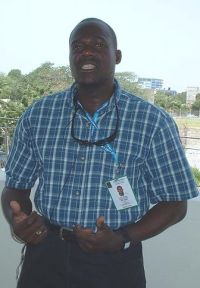 Williams needed more help, but from where would he get it?
As far as Gibbs Williams was concerned, Lawson had gone into the Jamaica programme and none of the coaches had acted upon the problem. Same thing at the under-19 level. Why had no one at the regional level picked this up and sought to have Lawson's action corrected? Coach Williams said he had discussions with Jamaica's U-19 coach Junior Bennett and senior team coach Robert Haynes, and they promised to have a look at Jermaine's action. But Lawson's selection shortly after in January 2000 to represent the West Indies in the Youth World Cup meant that there was no time for this examination and action to correct the faults.
When Lawson came back from Sri Lanka, Williams decided that he would not fiddle with his action during competition. By now, Jermaine had started to represent St Catherine Cricket Club in the domestic Senior Cup competition. Williams was, and still is, the coach at St Catherine.
Before Jermaine Lawson went to the Youth World Cup, Williams decided to be open, frank and honest with him, to let him know what the talk about him was. Fortunately, Lawson was, and still is, open to criticism. "I was impressed with how receptive he was to me as his coach", said Williams.
But the talk surrounding Lawson's action died down and seemingly with it, the resolution to do what was required to ensure his action was corrected and made legal. Jermaine went on to represent the West Indies at Test level. He was allowed to play in six Tests instead of being taken out of competitive cricket to do the remedial work necessary.
So many questions abound. Did those who should be concerned recognize that there was a fault? It is interesting to note that the present West Indies coach Gus Logie, was also the coach of the U-19 team that went to the Youth World Cup in 2000. Did he put this in his report? Lawson got a hat-trick against Zimbabwe in the very first game of the tournament. That might have raised a few questions. Were those deliveries legal?
Didn't anyone foresee that continued neglect of the problem would have turned out to be an embarrassing affair for the region's cricket? Didn't anybody from the WICB read Tony Cozier's article? The reporting of Jermaine Lawson's action to the ICC brought shame to West Indies cricket. Initially, reasons for the reporting were attributed by some to Australia's superiority attitude, one which would show contempt at being beaten by a team not equal in ability to them. But the tapes clearly showed that Lawson had problems and so the finger-wagging started.
Gibbs Williams has his own questions and his own thinking about how a situation like this could have happened. "In West Indies cricket, nobody is prepared to tackle problems like this and 'call a spade a spade'. I remember last year September, Dr Richard Stretch was conducting a Bio-mechanics seminar and camp. Some of the fast bowlers in attendance were Ravi Rampaul, Fidel Edwards, Jerome Taylor and Dwight Washington. There were some glaring problems with all the fast bowlers. Ravi was thought to have a mixed action [most injuries occur with mixed action bowlers]. As coaches, we were recommending that Ravi be taken out of competitive cricket and worked on. Gus Logie, Kenny Benjamin, Phillip Service, Tony Gray and Dr Michael Seepersad were some of the participants. We met upon a crossroads".
Williams then quotes his good friend Tony Gray, a former coach of the Trinidad & Tobago U-19 team. According to Williams, Gray said that having worked with Ravi and knowing the type of person that Ravi is, he didn't know how he could tell Ravi at that stage that he was going to be taken out of competitive cricket when his career was about to take off. Instead, the suggestion was to strengthen Ravi's muscles rather than change his action.
Will Ravi Rampaul go on to suffer in later years because of remedial action not taken when a problem was identified? Only time will tell. As Williams says, the thinking of some coaches is "my bowler is not injured, let's hope everything will be alright". Williams believes that in cricket, both locally and regionally, not enough emphasis is placed on remedial work.
Williams, who now holds a WICB Level II coaching certificate, the highest that the WICB now offers, recalled having a private discussion with Australian coach Toot Byron in 2002 after the two looked at a clip of Lawson bowling in the Test match in India. "The action looks suspect, let's see what happens" was what Williams recalled Byron saying.
History will show what eventually happened.
Now Lawson is back, not as effective yet as he was prior to May 2003 but Williams says "When I looked at him this year turning out for St Catherine Cricket Club, I was happy to see a more refined action. If you knew the Jermaine Lawson of old, in his delivery stride, his hands and legs were all over the place. He seemed to be the most refined of all the West Indies fast bowlers" said Williams. He added "He has lost pace, however I'm cautiously attributing the loss of pace to lack of match sharpness and preparedness".
Gibbs Williams' story illustrates much of what is wrong with West Indies cricket. The reluctance to make bold decisions which may be unpopular ends up slapping us in the face. The structure of coaching in the region at all levels needs serious streamlining, Communication, or rather lack thereof seems to be a major problem.
Williams recalled that Jermaine attended a fast bowling camp in Antigua. Apart from Jermaine not being satisfied with the content of it, Williams, as coach for Jermaine's domestic club did not receive any report on what had been done and what follow up work was required. "If the Jamaica Cricket Association got it, it was not filtered down to me". It is a similar cry uttered by national coach Robert Haynes about the Jamaican players selected to attend the Shell Cricket Academy in Grenada.
At the end of it all, I asked Gibbs Williams if he was blamed when Jermaine Lawson was reported. He said "no, not at all". Does he think he should have been? He responded by saying this: "Yes, I should have been sharper. In Jamaica, there are too many coaches who are not equipped enough to coach talented cricketers. If I was at the coaching level then, that I am at now, I would have been able to spot it earlier and fix it".
Until he did his coaching certification, Williams knew nothing about 'lateral flexion' or 'twisting of the trunk' - two of the factors which can contribute to back injury which Jermaine has had. Williams said he knew that Jermaine had a problem moving away from the stumps.
Continuing to talk about the matter of blame, Williams added that as an under-19 player Jermaine went as far as to the international level. "Nobody said anything about it [his action]".
After reading this, to where or to whom do your fingers point?
* All material on this website, including this article, are protected by copyright laws, and may not be reproduced, republished, distributed, transmitted, displayed, broadcast or otherwise exploited in any manner without the express prior written permission of CaribbeanCricket.com.