Inside the Mind of Wavell Hinds
Wed, Nov 3, '04

Wavell Hinds may be known as 'blinds', but when it comes to cricket, he leads with 20-20 vision. His leadership skills have been honed from captaining sports teams throughout his years at high school, and at his local club Kensington where he recently led them to the two-day title.
On a Saturday afternoon during the recently concluded regional one day competition in Guyana, Wavell Hinds spoke with me on a number of topics, even though he was not 100% well. But this West Indian cricketer had made a commitment, and after you listen to him talk about his life and his cricket career, you will understand why he didn't ask for the interview to be re-scheduled.
The role of the West Indian Players Association and its relationship with the West Indies Cricket Board, the remarkable ICC Champions Trophy victory, and the injury which kept him out of cricket for the first time in his career are some of the topics that came up during our discussion. Sit back and discover more about 'the complete cricketer', Wavell 'Blinds' Hinds.
MM: You've recently come back into the West Indies team after a long lay off due to injury. Was that the first time that something like that was happening to you where you were out for a long time?
WH: Yes, it's the first time I've been injured in my cricket career and it's the first time I've been out of the West Indies team that long since I started in 1999.
It was a very big challenge. Upon starting, I would have lied to you to say I wasn't frustrated, but after settling in and having creditable people around me giving me and lending me very good support, I sort of enjoyed the moment of rehabilitation and trying to learn new things about myself and cricket. Playing local cricket back in Jamaica was a very big big boost for me, not only for the fact of developing myself but also helping to develop a lot of youngsters within my cricket club.
Explain the rehabilitation work you had to do.
It started with the first phase of resting for extended periods of time over two months and then going through the sequence of doing water therapy?
Water therapy means swimming?
Swimming, and also running and doing exercises in the water on a daily basis, which was recommended by the doctor. Then I got laser treatment from the physiotherapist and it broke down into ultra sounds, then starting to walk laps, then jog laps, then doing small exercises up to the point of getting to do the regular 300 yard shuttle and beep test, and then into playing competitive cricket.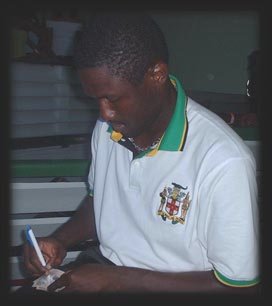 Hinds signing autographs
What was your mental state at the time? How did you approach the lay off period, which turned out to be nine months, how did you approach it mentally?
When it all started, resting was very easy, and just not doing anything was so easy and relaxing, but getting into the routines of waking up each morning and going to the beach and the sea was a little bit challenging and frustrating at times. After doing follow up bone scans and realizing that there was minimal recovery, I thought it was a little frustrating for me having to continue to go to the sea each morning, but I started to gain some form of strength within my groin and started to train and that came with a little bit of pain to start with. On mornings it was very difficult coming out the bed, I had to crawl out and roll off the bed?
Because of the pain?
Because of the pain and soreness, and stiffness but I must say a very big thank you to Dr Mansingh, Mr David Bernard Sr and Elizabeth Robinson who have worked in the capacity of doctor, trainer and physiotherapist and they all monitored my rehabilitation process and as it is today I'm playing again.
No effects?
As I was told from the initial stages in South Africa by the doctor who diagnosed my injury, that this will be a, if you want to call it a lifetime situation where you will always have effects and pains after games, and soreness. It won't heal 100% but with the kind of therapy that I got, or what he suggested surgery, which I didn't choose, I would get to about 95% which I would then have to keep working at, keep strengthening it on a daily basis and I will be fine. I'm very comfortable playing with it at this point in time and obviously it is much better than sitting at home watching.
Once you got fit after the layoff, you then led your local club Kensington to the two-day title. Kensington were the underdogs. How did you turn them into champions when they didn't start off very well?
The process started before the competition started which was to change the culture of the players at Kensington who have been in a very bad pattern in the four year period in which they all played together. We started to give them new training routines, new tactical and technical devices and using new routines on and off the field on a daily basis.
It was very tough getting through to them. Most of them started to rebel, people didn't like the training, it was very difficult. People didn't like the discipline because they had to get up each day and do the same thing at a certain standard, so to get sustenance performance it was very difficult for me as a captain, and I mean the premiere batsman on the team, but I had able support in David Bernard Sr who's the trainer and a qualified coach there, Mr Ralph Hinkson who was the cricket coach at Kensington and we had a cricket committee who played a very big role in organizing and dealing with the off the field needs of the players which was lacking over the last two to three years.
We didn't start the season very well but I think what was more important than anything else was that the guys began to believe in the processes and started to believe in themselves and know that there was light at the end of the tunnel once we kept working very hard. We didn't play the first couple of games to our full potential but one thing I tried to advocate more than anything else was to tell them that if we can't win a game, the opposition must not win so we'd both go away with even points and let the public say that it is a stalemate but at the end of the day they can't say that Kensington lost. Once we learnt how to draw games it was very easy to change gear and move into winning games.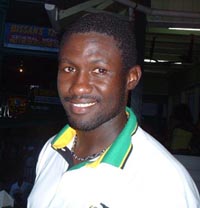 Wavell HInds
We lost the first innings twice. I was absent for one, I went to play against Bangladesh and we lost first innings to Jamaica Defense Force but the taste of defeat was also not a very nice taste for them and they knew that we'd need to change gears. I must also say a very big thank you to Dwayne Bravo who came and played one game for us and gave us the drive that took us straight to the title.
Was it the first time that you were captaining Kensington?
For a full season. I've had opportunities of captaining a couple of games being that I was on West Indies duty so I would be back home captaining a few games. Myself and David Bernard Jr would rotate the captaincy but this is my first season captaining a full season and it was a fantastic season for me, not only for the fact that we won the trophy but I felt better as a human being. I've become a better listener. I thought that I developed myself as a person being that I had lots of patience to deal with these guys and more of a father figure than a cricket captain.
Why the change in routine, why the new programme? What brought that about?
The guys were doing things that I did when I was playing club cricket. I've been absent for a full season for the last six years or so and I've played international cricket for the last six years and I've learnt a lot of routines and a lot of disciplines that brought success at the international level. Why not try them at a club level? Once you implement them properly and go about it delicately, being that they are youngsters and they are not as developed as grown men, that would have brought much success, not for the first season, but if we had a three year plan then I think without a doubt we would have reached there.
It so happen that we got there in the first year and that was superb and I think they know how to win, they know what it takes to win and they know why we won and I think that will stay with them for a long time. They just keep saying thanks for winning the cup but I felt better knowing that they have learnt how to go about the different disciplines of playing cricket. The three rudiments of the game require a lot of training and thought and I think the mental capacity has overpowered the opposition.
You worked your way back into the West Indies team and helped them to win the ICC Champions Trophy. Describe for me the mood in the camp when you joined the squad in Bermuda given the fact of how the series against England ended and describe how the feelings changed as you progressed through the tournament.
I joined the team in Bermuda for training. I was always in touch with a couple of the guys during the two series, the home and away against England and against Bangladesh, and everybody was a bit on the down side. People were trying to find their footing as to how they would go about this series. What was very evident and very bold was the fact that guys knew that it wasn't the lack of ability and people starting to realize that other teams have won the ICC trophy with less talent than us, New Zealand did it in 2000, India and Sri Lanka shared it two years ago.
The conditions in Bermuda weren't conducive to training properly and the pitches were very bad and we didn't have very good nets or anything like that, but what we did more than anything else was spend more time with each other, talking the game a lot more and people exchanging information which was vital to the game of cricket and getting to know the different individuals in the team which would have made a difference. You would know when to press whose button and when not to, and that played a big part.
We got over to England, and management got a little stern. They had curfew every night and people rebelled.
How did you deal with the curfew because I know you like to go out?
No?.I'm on the down side these days when I'm on cricket tours. I've had my moments (he smiles). When I'm at home I try to do my best in going out but on cricket tours, I even force myself not to go out so that wasn't a problem for me. People rebelled but what was very good was that the intensity and the attitude towards practice was a little bit different from how I'm accustomed to seeing West Indians practise, and even though the conditions were very cold and not the ones that we are accustomed to, people got their gears on?
Seven o'clock runs?
Seven o'clock runs.
You were always in that?
Not all the time. It was very much an optional thing. The management and the trainer who implemented it with the captain told me straight up that it was just to see how committed people are and just to see if you're not forced to go, if you can go off your own then that would make a big difference towards your attitude towards the team. People got equipped with the necessary gears and went about our routines very enthusiastically and people played their part. You had roles in the team to play and everybody tried to step up to the plate as much as they could.
When did you all realize that winning was a possibility?
From we were in Bermuda we knew that the South Africa game would have decided our fate and we just tried to crank ourselves up for that. Once we got through South Africa we just knew that Pakistan is basically the same as us. They could turn up on any given day and play the best cricket game ever and the next day they can be the worst team in the world. Once we got on top of them and put them under pressure I thought we were in the drivers seat from the time their 50 overs were completed.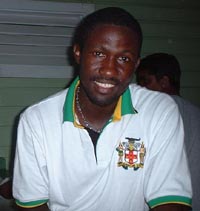 Wavell HInds
I'm sure you must have pleased that you found your touch with the ball?
Yes. I scored some runs in the first game, didn't get much in the second game. Didn't get a bowl in the first two games, but from I was a member of the West Indies team I was always practising the different disciplines of bowling and try to speak as much as possible to bowlers. As a batsman, I know how a batsman would think when a bowler is bowling so I try to incorporate all those things when I bowl. I'm not the quickest bowler in the world or the best skilled bowler in the world but I've tried to keep the simple things as simple as possible and be very disciplined about my approach and that has worked so far for me in my career and I hope to continue that.
You got Flintoff. Big wicket.
Yes, I think Andy Flintoff was a big wicket in the situation. He's on top of his game at this present time, I think he's in the purple patch in his career and at that particular time the team needed that sort of player to be showing his back to us. I think that was the first time in my career, since I've been playing cricket as a teenager that I've asked the captain to bowl.
What prompted it? You just had a feeling?
Yeah, I told Corey Collymore the day before, they were discussing and thing, that I saw him playing on the television and the worst he can do is hit my ball as far as he did the other guys and you can't be fearful of failure as a cricketer and you'll accept that he hit me for a couple of sixes then he played well. But I have nothing to lose because I think the public would expect him to hit me for six but didn't expect me to out him, so I'm always the person to win.
And of course a brilliant catch by the captain.
A splendid catch. Not only did he take a good catch, it also spurred the team on, sent a good vibe through the team and from there on we were floating.
We saw your celebrations, doing various dance moves and so on. It was a great feeling?
Yes, after playing for six years now, the first time I played in Singapore we won a triangular series and that was about it, anything of any major recognition. I think after playing ten test matches and losing seven and losing two one day series and won one against Bangladesh, I think it was time for the West Indies to send not only a message to the rest of the world but to give the people of the Caribbean something to cheer about, something to feel like there is hope.
We may not be the world beaters at the moment, but I think we have the material, we just need to harness it in the right and proper way and the powers that be need to probably take a look at what is going on and make the situation much better.
Also, last but not least, is that we have young cricketers coming up and you want to inspire them and motivate them. The games that you've seen in the tournament so far may not be the highest scores in this regional tournament but I guess from what has happened in the ICC trophy that each team always believe they have a chance. As you see the Trinidad team, with basically nine or ten second eleven players and they have been playing some splendid cricket, so I think that will motivate the region, make each player start to believe in himself, wanting to get on the West Indies team because they want to win the ICC trophy.
You've played during a period where things have not gone well for the West Indies. What would you attribute the generally poor showing to?
I can't pinpoint any one thing. I would first of all say I must admit that mentally I think that we West Indian players are lacking. We're not matching the other teams mentally and I draw reference to the fact that we are a much better one day team than a test team and that says to me that probably, because the game is shorter, we probably have a better scope concentrating for less time, but as it gets a little longer you will see that West Indians make, as it was with the test score at Sabina Park, we made 300-odd in the first innings but in the second innings we made 47.
Are you glad you weren't a part of that?
No, I can't say that. I'm a West Indian. I felt bad, people cursed me on the street and I wasn't even in the match. I went on the Mound after the game was completed and they cursed me, I went all over and they cursed me but I did not try to defend it because I'm a West Indian cricketer. I felt like I was part of the 47 also. Once a West Indian cricketer, I'll always be a West Indian cricketer.
I think the mental side of it, irrespective of the different things that are not in place in terms of developing young cricketers, I think that whatever outfit the West Indies put out, we can give a better show than what we've done. So I think I would blame the players for a lot of it, I wouldn't say most of it, but having said that in terms of development and trying to mould young cricketers into quality international cricketers I think that the region is lacking in that department and the powers that be probably will have to put their heads together and come up with a winning formula.
The awarding of retainer contracts will soon come about we hear. What impact will that system have on individual cricketers and the team's performance, in your opinion?
The retainer will bring about some form of stability, security, for a player on the one hand. On the other hand, that doesn't eliminate the other guys who are not in the however many they select to retain.
No figure has been decided yet? Is it 20? 25?
I'm not in the negotiation meetings?.not anymore. No figures have been decided as yet. But I think what it will bring about is some form of professionalism from the player and then you'll be employed for a full year or however long the contract lasts for and you'll be required to produce certain kinds of performances over an extended period of time, whether it be playing international cricket, or keeping your fitness, going to coach, going to training camps, whatever is required. I think you'll be getting up each day to work, whether away or home, so I think the discipline will be there and the players would be more prepared and there'll be stability and security for the players and I think you will get more from them.
How is the system now? If you play a match and you don't contribute anything at all, you still get the same fee as if you had made a century?
Yes.
Is that going to change with the retainer system?
I think the retainer system is more about you're on a basic salary per month and when you go on tours or when you play cricket you get match fees. I think as it related to the individual performances that goes down to team incentives and all the rest of it. I can't give you the full details. I would be lying if I told you, but I don't think it has anything to do with making a century or not. I just think it has to do with basic salary and getting match fees when you play.
So with the benefits to the players, that will have a spill over effect on the total team performance and we should expect to see a more consistent level of performance from the team?
Well yes, that is the aim and I hope they have earmarked an extended time that they think that that programme will gradually get the team to that level and not because a retainer is implemented in January that means the team needs to start performing right then at the level that everybody expects a retained team to perform at.
The team should gradually grow and people will become more accountable for their fitness and mental state outside of cricketing circles and I think that will put the team in a much better stead when we regroup and we would start a series better, than trying to play catch up.
Unlike when you were going to Zimbabwe when the trainer complained, the coach complained, that you all came not being fit. Were you fit?
I would like to think so.
Well, based on the 300 yard shuttle and beep test.
Yeah, yeah, yeah man I passed my test.
Level 11, Shuttle 1 is it?
Level 11, Shuttle 3. I had some work to do with stamina. Did that early mornings, myself and Christopher, in Zimbabwe and went through the Zimbabwe series pretty ok, played the couple warm up games in South Africa, and did my groin bowling in the test match, a 10-over spell, the first test match.
Let's talk about WIPA [West Indies Players Association] now. By the way, are you still Treasurer?
Vice President.
WIPA has been very proactive not only in the negotiations over what the final version of the contract will look like, but also in looking out for the players' interests. How has WIPA's role changed since its inception?
Our president, Mr Ramnarine, myself and other executives took over office about two to three years ago. We laid out our action plan then, had a progress plan in place as to how we would progress. I think we have made a few steps, a few big steps forward. We have become more professional in dealing with the Board [West Indies Cricket Board], and the Board has become more professional in dealing with WIPA, which is very important and we are very happy for that. We meet like civilized professional people trying to get to one common goal which is to get West Indies cricket back on top.
A lot of that started when Michael Hall [former Chief Cricket Operations Officer of WICB] took over. He mentioned that he had a very good relationship with WIPA.
Yes. Michael Hall, Barry Thomas [Chief Financial Officer, WICB] and Roger Braithwaite used to meet with myself and Dinaneth and we had some very good meetings and some very harsh ones. As it is now we have gone very professional. Mr Ramnarine is there with our industrial relations people and our legal team and they will sit and discuss issues with the Board who has their industrial relations people, so all in all it's going good.
WIPA has moved in the way that we are trying to develop our own players and we have had remedial sessions for two years now where we deal with numeracy and literacy. We try to develop people and make them into better human beings and that seems the only way to go about trying to develop cricket and develop the region.
We have had some very grateful help from known sponsors, big name sponsors from around the Caribbean. For two years running now we have had the meetings in Trinidad where BP [British Petroleum] is our major sponsor, Hilton Hotel and BWIA airline and we have brought over about 30 cricketers from across the region from the under-19 level upwards and we have assess them, and then we will take it from there as to how we sponsor or give scholarships as to how far we can go and that has gone well so far. We're looking to make it a little bigger next year.
We've had our awards dinner for cricketers. Last year we had just a fundraising dinner but this year we made it into an awards dinner and we will be having the same next year in Jamaica. That has gone well, trying to recognize people's efforts, and trying to recognize past cricketers and what they have done for the cricket and making the legacy of West Indies cricket what it is today. That is our small way of saying thank you to them, for laying the platform and the foundation and making the way a little easier for the present day players.
We've made donations to charities across the region and have gone into disabled homes and schools trying to extend our hands and trying to show people that WIPA is not all about negotiations and quarrelling about money and players' benefits but at the end of the day just like how the Board has their way of looking out for their employees, we have to look out for ourselves.
So that is WIPA. It's a non profit organization trying to make a better world for the players, trying to make cricket a better place to be involved in, to make cricket more attractive and marketable to youngsters and families who have young talents within their homes and who choose not to send their children into cricket because [they think] there are some bunch of peanut heads playing cricket or there is no hope to achieve any academic skills or anything academically. We are trying to germinate that kind of behaviour and push the cricket forward.
As Treasurer, you were involved in that boycott of the semi finals of the Carib Beer tournament. That was after the World Cup where you also had a situation where players refused to attend a press conference to announce the sponsorship from the LNM group. Looking back now, do you think those two actions were correct?
It's very difficult to put a wrong or right to it.
What were the main issues that brought about this action.
At that point in time, we were going to the World Cup and we had the training camp in Antigua and I think we were in negotiations with the Board, myself and Dinaneth were representing WIPA and the Board had their representatives and we had discussions for about 10 hours and I think the gaps were, I mean negotiations is all about making compromise and meeting half way, but I think that the gaps were far too wide and being that we were going to the most prestigious one day competition in the world, where the players were very marketable. Most of their rights were taken away from them because of the ICC requirements and the little sponsorship that we got from LNM, we just didn't think it was being distributed or apportioned the right way, so people had a stand off.
Michael Hall told me about that particular incident that a little more dialogue might have averted what happened.
I think time didn't allow for a little more dialogue. We taking part in the media conference would have said that we endorsed LNM to the fullest and I thought we were totally agreed that fine, we would wear the jerseys and you keep the money and we will just do it for free and they didn't want to look that embarrassed. They wanted us to accept what they were giving and we decided no. Is either you give us a lot more than they were offering or we will just take none at all and you take it and give it to whoever you want to give it to.
But then you embarrass your employers and you embarrass the sponsors. What kind of message does that send?
It's not the right message to send. I don't think on any given day no team or no association representing players will want to take striking as the first option. That should be last, if no resort at all, but from where WIPA was coming from before this new executive took over, I think the players were treated in a fashion that said 'you take what you are given' and we were trying to get out of that kind of culture, and probably doing that was trying to send a strong message across that we are willing to stand up for what we believe in and we will take what we think is reasonable or we will take none at all.
What lessons have been learnt on both sides?
As I said before I think the Board and the players have been meeting in very very professional dialogue these days and we have learnt our lesson that it can't be 'be all or end all'. It takes a little bit more deliberation in meeting a compromise and that's why we have gone to the professional help of getting people who have trained and are qualified to deal with such issues.
You have leadership roles in WIPA, in your club, and Brian Lara has alluded to the leadership that you provided to the team in this past tournament. Are you a born leader?
(He pauses)I think that's for the onlookers to say. I think that from growing up, being the eldest son in my house, I think my father always used me as the benchmark and allowed me to set the tone for my smaller brothers to come. At high school, played football and cricket, captained both teams at all three [age] levels and I was always somebody who like to?I don't like to follow, I like to initiate, and if I make a mistake I must hold up my hand and say that I make a mistake. I don't like to make other people's mistake by following somebody.
Having said that, to be a good leader, you must be a good follower because somebody has to show you the way before you can take over. I try my best to try and grasp as much as I can, and I got most of what I have now from my school, Camperdown High School. My principal Mrs Cynthia Cooke and Mrs Shirley Simmonds the vice principal hav pulled me in a few times and hav shown me the way.
You mean you were hauled up for disciplinary issues?
On both sides at times, yes, and trying to have my own way at times has made me pay the price. I've learnt from captaining the teams. Playing in my cricket teams at school I think, not to disrespect or say anything bad about my team mates then, but they were of less abilities than most other schools would have had and a lot was on my shoulders. So I was always in the capacity of knowing that I was the person to make the runs and I was the person to take the wickets. So that added pressure throughout an eight year period at high school has helped me a lot.
Eight years?
Yes, I repeated Fifth Form. At Kensington, Mr David Bernard Sr, Mr Basil Williams, former club captain, Ralph Hinkson and I can go on and on, a lot of guys who have taught me the way. I was given responsibility from a very tender age of 13, captaining the Minor Cup team so I would be captaining people who would be going to a 9 ? 5 job in the morning. So I've been in that situation for a long extended period of time and it has helped me a lot, I've learnt a lot. As I've said before I've become a very very good listener these days and I try to absorb as much as I can before I make my move.
Let's go back to Wavell the little boy. What made you start playing cricket?
My daddy (he says that with fondness). He was the captain of the community team in Portsmouth in Portmore. My dad used to take me around to watch the community play. They used to go and train, I had to take the gears to training, those big bags for the men to use, I had to roll the pitch.
How old were you then?
From about Grade 1, so 7 years old up to about 10 or 12 years old. So I had to do those things, score the board and so, so I was more like the caretaker for the team at a very tender age and they would curse me if I don't take the gears to the training area. Then I got to love the game and if my father decided I couldn't come to this particular game I would cry. I learnt, played, got my own bat, my father would cut a bat for me and give me, and my own ball, played in the street with my friends and finally got the opportunity to play competitive cricket when I went to Camperdown to play Colts in First Form at the age of 12.
Who was your coach?
Mr Lancelot Livingston. We used to practise by Kensington and that's how I joined Kensington and the very next year started to play for Kensington. I played Colts cricket in 1989 and played for Kensington in 1990.
When did a career as a West Indian cricket come into the frame? When did you realize that this was a career path you could take?
I think at the age of 18, when I first made the West Indies U-19. I played U-19 in 1994 in Barbados, I didn't make the West Indies U -19 team and the following year we went to Grenada, and by then I was Vice Captain, Gareth [Breese] was captain, and I made the West Indies U-19 team to Pakistan, Gareth was captain. Did ok in Pakistan, came back home, got into the Jamaica squad, got 12th man for one game and then the following year was 1996, I was captain of the Jamaica U-19, played the West Indies U-19 and I was in the Jamaica team. By then I started to believe that, seeing how the routines were, how the avenues of getting into the West Indies team was, and people who had been playing, no disrespect to their abilities, but if they could play then I just need to train harder and I would get into the team as well.
I started to get the necessary encouragement from all my support staff in my family, friends, school, and other places. People started sometimes to believe in me more than how I believed in myself, so I said ok I would give it a go.
Sometimes that's the push that you need. Other people to say 'Wavell, you are good enough to do this'.
Yes and I must say that sometimes expectancy pressure from other people gets the better of me. 1996/7 was when I realized that I could get on the team and play for the West Indies.
You had always concentrated on your academics. What was the second option?
I spent eight years at high school, playing cricket and football, Manning Cup and all of that, but still I remembered that I was first a student before I was an athlete and I tried my best to stay in school and do my work. As I said before I had a principal who wouldn't let you forget that on a daily basis. Did CXC, passed a few subjects, went to Sixth Form didn't do too well. I think I had left for Pakistan so I missed a full term, so I didn't get all the subjects I did.
Which ones you got?
I passed Economics and regular General Paper, which is not 'A' level. Did one year at U-TECH [University of Technology] and I'm still on leave of absence. (He chuckles)
Who have been your greatest sources of inspiration in cricket and in life?
In life I would say my family. My family because of the standard of living that I was brought up in and the sort of support they gave me and the sort of ambition that my family have. The only thing missing was just the opportunity and the resources for them to aspire to reach great places. Being the first person out of the blocks and getting the opportunity in a very big way, I remind myself even upon facing a delivery that I'm not only batting for myself, but for my family. That has been the hallmark of my career, trying to play for my family. The expectant pressure gets the better of me sometimes, but I feel bad disappointing my family and my father who I know expects a lot of me, so that's always been the motivating factor and as it turned out when I was injured, they were there for me and they were the persons to get me back on my feet.
As for cricket, Mr Basil Williams from Kensington, former West Indies player, Mr David Bernard Sr, who was my Junior Cup captain when I was 12, captained me for about five years and was the club's physical trainer, and I've been with him since I was 12 years old until this day. So he has played a big big role as to how I went about training and my mental approach. He is a little bit on the regimented side because he was a soldier, so he's kind of hard. No excuses are accepted.
Mr Clive Lloyd, seeing that he was the first Manager when I just joined the West Indies team and he was acting as Manager/Coach for a couple of series so he was the only person in that capacity and who I would sit and speak to about the game, who would tell me that we need to go to the ground very early because he needs to take me to the nets to show me things and talk to me about the game. On my birthday in England this year, the very day I reached there, the 7th of September, we had a very lengthy discussion and he was always there during discussions, whether in his capacity as Match Referee or he is just on tour to watch the West Indies play. I have the most respect for that man, Mr Clive Lloyd.
On your return from South Africa, when they interviewed you at the airport, you didn't use the injury to excuse your poor form. When you get into a slump, how do you get yourself out of it?
I try to call people who I think are knowledgeable about the game, being that it's international cricket and it would be on TV. I would tell them my mental state and they would see the technical side of it. I try to speak to people who are the most knowledgeable about the game as much as possible, from the youngest to the eldest. I have friends, the common man on the street, who I will call and he will tell me what he think and I'd call persons who are certified in cricketing circles and he would tell me what he thinks and then I would speak to my team mates who are around me and who see how I operate on a daily basis and I try my best to dissect all the information as much as possible from all those three departments and go forward.
Would you say that in this [regional one day] tournament you are in a slump?
Ahm, no, I'm not in a slump. First game I got 3, second game 55, I got 17 against Trinidad and 1 yesterday [against Barbados]. I think yesterday was my worst innings so far for the series. I don't think I'm in a slump, I think I played a couple of poor shots, the game against Trinidad I played a poor shot and yesterday I got out to a technical fault, so it's not a matter of being in a slump it's just a matter of being more assertive and paying more attention to details.
What makes you play a poor shot? I've never played cricket so I cannot appreciate having to decide what shot to play when the ball is coming at you at 80 miles an hour, 90 miles and hour.
It comes down to shot selection, which is a matter of judgement and state of the game awareness. At the state of the game, what shots are required, what shots are not required. According to the conditions and what the bowler is bowling, what shot does the pitch allow you to play or what shot does the bowler allow you to play. If he's spinning the ball too big or if he's bowling too quickly you can't play so. So it's a lot of detail, but I try to break it down, because you can't think about all those things when the ball is on its way to you. I think state of the game and what the pitch allows you to do.
After a series do you go back and look at yourself, and you do your own analysis?
Yes, we have those facilities in the West Indies team where you get tapes or CDs and you can go back and see yourself. You get your disk before the series starts and you will go and watch it and you try and make the necessary adjustment. You can't get them all right. Sometimes you over correct one and get into a slump with another. Cricket is a very technical and detailed game and sometimes you just have to make sure you keep it as simple as possible and when things are going your way you make sure you cash in and get as much as possible.
As one of the older players in both the West Indies team and Jamaica team, how do you try and help the more junior players? How do you try and guide them?
First of all I try to make myself as approachable as possible, try to be as transparent as possible and try to be as rational as possible. In doing that, I will try to allow that to attract them to me, more than anything else, then it will be easier to get through to them in trying to point out their faults or what they need to do, or even if they don't have a fault, but things they need to take on board so as to make them a better person and to try and propel their game forward.
I noticed in one match at Kensington a fielder was very lazy and lethargic in going for a ball, and you beckoned him to go off, which he didn't seem to get, and then you did it again and he realized he had to go off the field. Is this an approach you've taken throughout your cricket career?
Yes. That situation was that I sent Andre Hall off the field against St Catherine because he chased two balls in similar fashion, and did the similar thing in returning them and the batsmen got four runs. I think we were trying to defend I think 40-odd runs for the next team to get first innings. So my message in that is not to embarrass, he may have felt embarrassed that evening, but that wasn't the aim. It was to try to tell him that when we walk out to play cricket we are playing cricket. If you chase the ball with full speed, throw it in as quickly as you can and the batsman get two, then thank you, you've done your best. If you've done your best and the batsman still get two runs, then fine. But if you have somewhat gone about it very lazily and lethargically then that is not helping the team. That is not sending the right message because the next fieldsman will do the same thing and what we will do? We will just lie down and die.
So you used him as an example then.
Yes to send a message and he was back on the field by tea time because Mr Bernard had asked me to reinstate him. I did that during the Jamaica training a couple weeks ago, at Sabina Park, with Ryan Cunningham. We were in training and we were doing game simulation and I had to do that and it cost a big uproar in the team.
But I think there is nothing in cricket that is soft, not even the pad. The ball, the stump, the field, the pitch, the bats?.I think the clothes is the softest thing so you have to play the game hard, and the sun is hot. It doesn't make sense you leave home, you come out of your bed, you could be at home doing 500 other things, and then you come on the cricket field and you sky lark. People will make mistakes, I make mistakes, but it mustn't be because of lack of effort. You must at least put in the effort, commit yourself to it, and you make the mistake. The opposition must outplay you. What I'm trying to eradicate out of the Jamaica team and the West Indies team is people hiding behind people and playing in people's shadow and marvelling in a next one's success. Alright fine, but you must step up to the plate too, you must have to pull your weight, and that's why it's called a team. If you want to play an individual sport, then you play table tennis! If you're going to play cricket and you put on the gold and green with black, and the coat of arms over your heart, then play like you're representing Jamaica. If not you stay home.
So you had some of those words for the Jamaica team after the loss to Trinidad [Thursday]?
Well after the Trinidad loss I didn't say very much. Before that I said it, and yesterday [Friday] evening those were the kinds of talk I would give when asked to make a speech. And the guys know I'm a little bit hard when I am playing the game. That's how I played it at Kensington. That's how I learnt it at Kensington from Mr Basil Williams and Mr David Bernard, who cried yesterday when we won.
He cried?
Yes he cried, because he is so passionate. He's the trainer, he's so passionate about playing the game and to see that we made 165 and came back and won the game, and he's always a guy who believes in character and resilience and trying to impose yourself on people, and he's that kind of a person. He felt better than if we had made 360 and win. If we make 100 and win he thinks that it says more about the person and I believe in that and I try to implement that at Kensington and sometime they tell me I'm a soldier and I'm giving them soldier training. But when they win the cup they don't remember any training.
That's right, you have to remind them that this is why we've got here.
Right, and same thing I do with a couple of these guys on this team who think I'm a little bit hard and miserable but when they won yesterday and were running on the field yesterday I had to remind them that hard work bears success, and there's only one way to win and not only that but to prepare for life. You'll come up in times where you'll have family and you'll have three children going to school and you have to pay three school fees at the same time. What you going to do? Just pay one and run away and leave the next two? You have to develop yourself and prepare yourself for life, when adverse conditions face you, you step up, take it as a motivating factor and move forward.
The impression that I have of you, not knowing anything about you before this interview, is that you are determined, forthright, you're a no-nonsense person who has the ability to influence any group you're a part of. You also know how to have a good time, but when it's time for work, you switch back into the serious side, and you're purposeful. How accurate am I?
Very accurate. Very accurate. I try as much to be as mellow as I can when it's time to be mellow. As I will speak to the younger players like Xavier Marshall who I think is a very talented young man and has far places to go and he can get there as quickly as he wants. I will speak to him and tell him don't let anybody tell you that you're young. Don't take three, four, five years. In five years you won't be 19 anymore. So take your time, learn the rudiments of the game, get through the routines, get the discipline and the necessary things, so when you get on the West Indies team it won't be foreign to you. And you don't get there because you just want to say you represented the West Indies you want to get there and perform. To get in the top is very hard but to get in there and stay in there is even harder.
So I try and implement those things with him, [Evon] McInnis, and other young inexperienced cricketers. We're not going to kill you, but when you're playing cricket, you have to listen because no two cricket game is the same. The one played in 1920 and the one that is played today, there is no two cricket games ever the same. The fact that it's a new ball, a new pitch and the wind may be blowing in a different direction, so no two cricket game is the same. What I know about cricket now, or what I've learnt about cricket is because of sitting in the dressing room and listening to older guys, experienced guys speak, learning from their experience so that I don't have to go through the same trouble and moving on. I will still make mistakes but sometimes I will foresee something that's coming and try to speak to them as much as possible.
I play that role on the team, try my best not to get too detailed because I have to remind myself that I'm not the captain and I don't want it to seem as if I am undermining the captain or anything like that.
You know a lot of people thought that you should have been the captain. But we see Gareth consulting you and Chris and I guess you give him some instructions too, for the team.
I think that Gareth is doing a very good job, and Christopher and myself have tried to help him as much as possible and we try to help each other and we encourage the players in the team to come out and say, through the right avenues, to come out and say what they think of the day, if they have a suggestion, probably they don't go straight to the captain, maybe they can tell a senior player to tell the captain, because if you have a cricket team, the players will make the captain look good.
My belief is, as I tell my youngsters at Kensington, that when I am playing cricket everybody is a captain. I am probably the named one but everybody is a captain because if you can't captain your own game you can't contribute to the team. Captaining your own game is on and off the field, when you're in sight or out of sight. It's your game and the team belongs to everybody and that's why we all wear the same colour and the same coat of arms, just that somebody has to walk in front. Simple. Each time you walk out with the bat to bat, or to bowl, when you have the ball in your hand you have Jamaica in your hand and you decide what you do with Jamaica. When you going to field, same thing. When you put on your blazer and tie you have a commitment and obligation to your country and you're ambassadors so you have to behave in a certain fashion.
The quicker I had learnt these things, probably a better person I would have been but as it is, life is like that and you learn things as you go on. I will try to help guys so that their life will be a much better one than mine and that they will learn as quickly as possible and that will make it a better Jamaica and a better West Indies so we will be looked upon throughout the world as a better region, a good region.
Do you have aspirations to be the captain of the West Indies cricket team?
Ahm??.
Again, you've been touted eh. 'Blinds' for captain, 'Blinds' for captain.
Ahm, I wouldn't say I would be going to bed thinking about it but if asked to do the job, I think I would take it with both hands and I would feel very honoured and privileged to be seen as the ultimate guy to captain the region, because as it is in cricket, and you know what cricket means to the West Indian people is like a religion, everybody knows who's the West Indies captain but not necessarily everybody knows who is Jamaica's prime minister. So I think that capacity comes with a lot of pressure but it's a very big gesture, it's saying a lot about the individual who holds that position.
Do you think Brian Lara is unfairly blamed?
A lot of times, yes. A lot of times, probably because of his past and probably because of his talents. Because he is such a great batsman people just expect him to do everything and that is very unfair to him. Having said that I think he has almost fulfilled his potential as a batsman, and as a person and as a captain. And remember that a captain can only work with what he has. He can do so much but no more. As much as you say the bowling change might be wrong but as to how the bowler bowls the spell can't be up to the captain, that is left up to the person with the ball in his hand.
The player must bear some responsibility.
Yes, everybody must pull his weight that's what I'm always lamenting and I think he has done a splendid job as an individual and he has done a lot for West Indies cricket. Him breaking the record a second time says a lot about him as an individual.
I've heard you say that you had hoped to have achieved a lot more by this point in your career, so obviously you have had to make some adjustment. What sort of targets have you set, progressive targets for your career?
First and foremost is to get back in the test team and try and cement my place and to try and cement my place in the one day team also, so all in all it's trying to get into the team and cement my place and then probably I'll set my stalls out after.
How can the powers that be ensure that the ICC victory is not just a flash in the pan?
As I said before, the powers that be can actually take a lot from this and try to, I'm not saying they're not putting effort into development, but probably fast track the development of West Indies cricket in dealing with the youngsters, and the facilities and all the rest of it and trying to probably lend a lot more support and pay attention to more details as it pertains to player's welfare and players' development, the present day players, and I think the retainer is part of that, so not only the Board but also WIPA will probably need to fast track that and try and get players as comfortable as possible and try and work with this batch of players to set the tone for players to come.
Anything else you want to say?
Just to say that irrespective of the negatives and what all the detractors are saying about West Indies cricket and the West Indian players, I think we are a bunch of committed young men who, some at the start and some during the time of playing, have realized their responsibility as a West Indian cricketer and have realized the burden that is on their shoulder and have realized the work load that needs to be put in place for us to come out with the necessary results and to stay competitive on an international level.
* EDITOR'S NOTE: All material on this website, including this article, are protected by copyright laws, and may not be reproduced, republished, distributed, transmitted, displayed, broadcast or otherwise exploited in any manner without the express prior written permission of CaribbeanCricket.com.