Tour Diary: Cuddling the Crocs
Sun, Jan 16, '05

West Indies cricketers know danger. They have tasted and even conquered at various times the best that Brett Lee and his ilk have had to offer.
But away from cricket on Sunday 16th with crocodiles, pythons and other reptiles within touching distance at the famed Crocodile Hunter, Steve Irwin?s Australian Zoo there was a fair bit of fear, anxiety and apprehension about.
That was for some. Others, after being assured that very little risk was involved, gleefully wrapped huge snakes around themselves and encouraged photographers to snap away.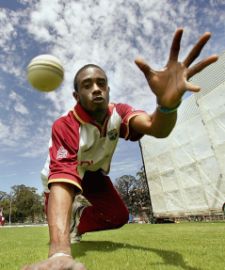 Chris Gayle, Wavell Hinds, Brian Lara, Dwayne Bravo were the braver ones who petted baby crocs and fed three eager elephants. There was initial apprehension about feeding the elephant but this quickly dissipated as the two pre-teen sons of physio Stephen Partridge led off by lobbing apples to the enormous beasts.
As player after player took turns in the feeding frenzy they rotated their personal cameras around, flashing more than the paparazzi at a Hollywood event.
It was all part of their visit to the zoo, on their day off, as guests of Irwin. Having flown over from Melbourne to Brisbane the day before, the ride to the zoo was about an hour out of the city and took the team past places such as Mango Hill, Deception Bay and Ape Mountain.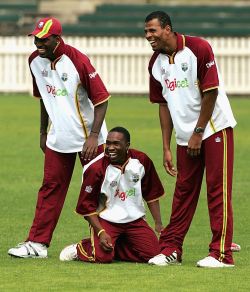 During the main show when Irwin fed and teased a monster croc named Monty many of the guys marveled at his bravado, particularly when he dived into the pool with the croc. In the lead up to the croc feeding there was a bird show, a tiger show and a snake show.
During the bird show Xavier Marshall and Ronnie Sarwan had close shaves with macaws and other exotic birds that swooped over their heads while flying around the arena.
Not that there was any danger involved as many of the patrons had the friendly birds land on their heads, shoulder and seats.
The crowd did a Mexican wave to welcome the team and Irwin mentioned how honoured he was to have the West Indies team at his award winning zoo. After a few hours of a fun trip it was back past Mango Hill, Deception Bay and Ape Mountain to Brisbane.
Tomorrow it will be back to the tough grind in the nets. Fear was conquered today, Pakistan is to be conquered on Wednesday.
* The Australia tour diary is presented in association with team sponsor Digicel.